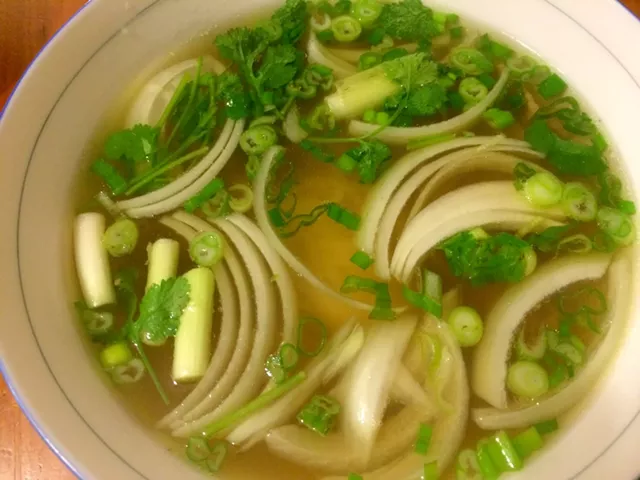 Alice Levitt
Pho with sliced beef
Some people require only a madeleine for a transporting bite. Sorry Marcel, many of my childhood memories are harder to reproduce. Like my first taste of pho in Montréal. At the age of 9, I'd just finished appearing in a production of
South Pacific
. The French name of the dish, soupe Tonkinoise, conjured the exoticism of Bloody Mary and Bali Ha'i.
But the soup itself, a light broth made almost milky with sweet beef marrow, didn't taste exotic, despite its dose of star anise and cinnamon. It just tasted right. Though I've been able to replicate that experience in Montréal, it never quite happened for me in Vermont until last night. Pho Nguyen, the latest in a long run of Vietnamese restaurants at 1130 North Avenue, did it. They gave me back my Rosebud. The madeleine crumbled with comforting thoughts of Luther Billis and the boar's tooth ceremony.
Alice Levitt
Buddha loves Vietnamese karaoke
Why is this latest revision of the former Phuong's Kitchen, Wild Bill's Western BBQ and Bamboo Hut different? Owner Phuong Lam is still at the helm, but she's joined by new chef Nguyen Bo. As longtime fans of Bamboo Hut will tell you, after its original chef left, so did the quality of the food. Bo brings new, excellent recipes.
But there are more superficial changes, too. The half of the building previously given over to a convenience store has been added to the restaurant, along with a slick new bar. There's also a TV and sound system reserved for karaoke. But don't expect to get your "Freebird" on. The songs available are all Vietnamese.
But on a Monday evening, there was no nightclub scene to crowd out my quiet dinner. The huge flavors of the pho were unquestionably the star of the night, but the pork bun was also noteworthy.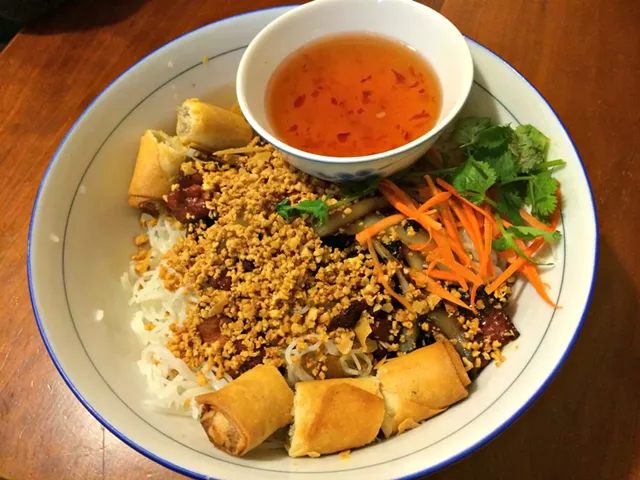 Alice Levitt
Bun thit nuong with cha gio
Until Bamboo Hut started going south a couple of years ago, it was unquestionably the standard bearer for all Vermont rice noodle salads. With a new incarnation, Bo has brought a different recipe, but it's a corker. Thin slices of meat are long-marinated in a peanut-flavored sauce. Sweet caramelized onions tangle with the chewy noodles and crunchy carrots, lettuce and cilantro. A rare treat, the nuoc cham was not just sweet but tangy and amply speckled with chiles. For once, I didn't have to use every bit of it to make the noodles taste like something.
I was a fan of the egg rolls, too. Evenly fried (sometimes a challenge in past incarnations of the restaurant), the rolls gave me exactly what I wanted: lots of pork and vermicelli, a little bit of spice and not much else. Just how I like it.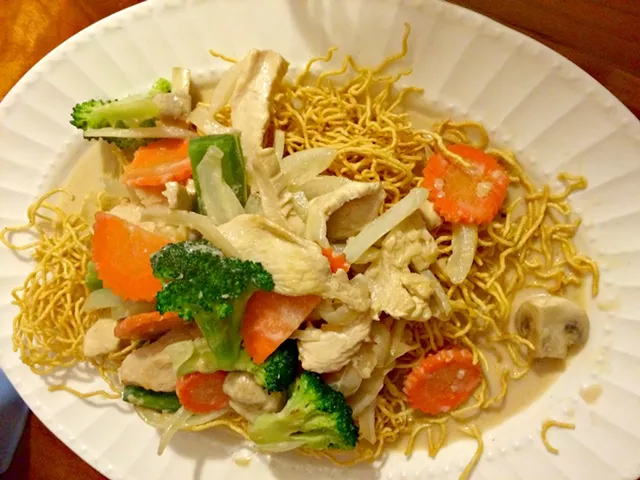 Alice Levitt
Mi xia gion
I batted around the idea of trying a ban xeo crèpe, but was simply too curious about a crispy noodle dish called mi xia gion. Basically the Vietnamese take on Thai khao soi, the giant platter I was served was filled with crispy fried egg noodles. Sitting in a coconut broth, the noodles eased little by little into a form that could be wrapped around my fork. I missed the heat of the Thai version of the dish, but the veggies were cooked to perfection. It was an enjoyable dish, but made little impact next to the other stellar plates.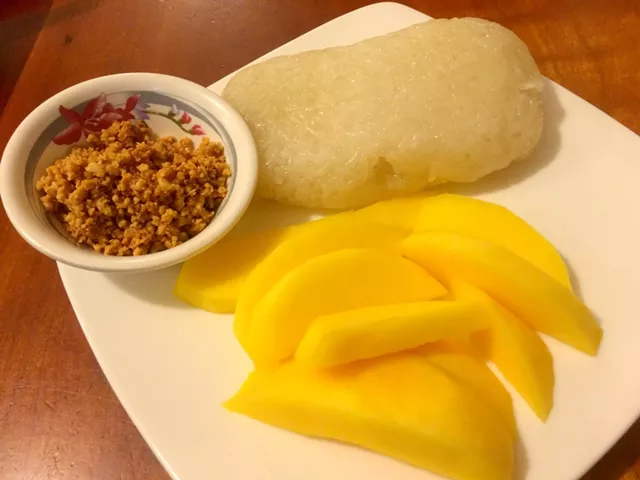 The m
Mango sticky rice
The meal that started with fireworks ended with a whimper. It's partly my fault for ordering mangoes in the winter. But this was one of the lamest mango sticky rices ever. With a dry, slightly sweet patty of rice and unripe mangoes, the only thing to recommend the dish was a bowl of crushed peanuts on the side. Nice touch, sad dessert.
But guess what? I only ordered the dessert for review purposes! Especially knowing that they'll deliver to my office, Pho Nguyen is bound to be a new regular part of my rotation. I'll be way too full of pho and bun to worry about dessert.
Alice Eats is a weekly blog feature devoted to reviewing restaurants where diners can get a meal for two for less than $45. Got a restaurant you'd love to see featured? Send it to alice@sevendaysvt.com.