Alice Levitt
The elegant barn filled with diners craving comfort food
Starting December 23, Sugarbush skiers will have a new dining option. Right in front of the
Common Man Restauran
t at 3209 German Flats Road, the eatery's co-owners, Adam Longworth and Lorien Wroten, will unveil
Common Kitchen Meatball Co.
, a custommade trailer specially designed for serving up meatballs to schussers on the go.
But before Longworth and Wroten headed down to North Carolina to pick up the trailer, they invited guests to preview their meatballs at a $23 prix-fixe dinner on Sunday night. Already dining for a little more than the usual Alice Eats limit, we eschewed the Heady Toppers indicated by the meal's official name "SpagHeady & Meatball Dinner" and skipped right to the savories.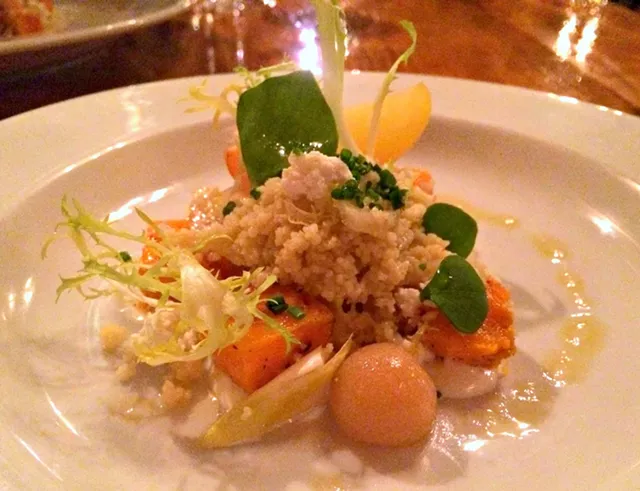 Alice Levitt
Even at a casual dinner, Longworth couldn't hold back his creativity on the salad
With a "ball" theme throughout the night's menu, tiny orbs of quinoa were joined by a sphere of apple sauce. Tangled in the quinoa, soft tendrils of fennel mixed their anise sweetness with roasted but still-crunchy butternut squash. Blobs of yogurt blended their tang with that of a cider vinaigrette. A half moon of lightly poached apple completed the exceptionally balanced plate.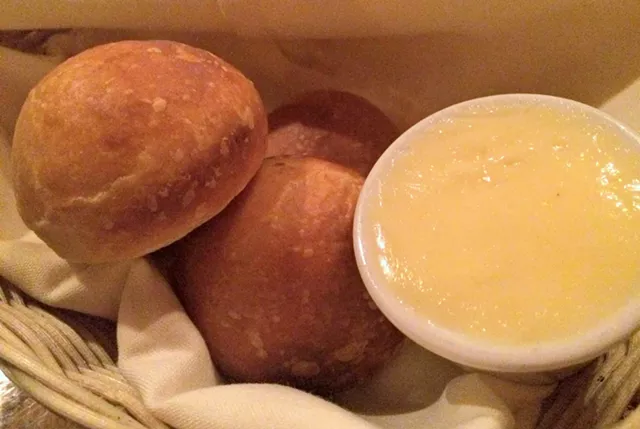 Alice Levitt
Yeasted doughnuts, er, rolls
I was so satisfied with Longworth's characteristically creative salad that I almost didn't bother digging into the basket of tiny yeasted rolls presented with it. That would have been a mistake. "My whole career, I've been so intimidated and afraid of those things," Longworth later told me. "They're so sensitive and so hard to make."
The warm, fluffy little balls were worth it, especially served with soft butter sweetened with local honey. The combination would have been just as satisfying for dessert.
Longworth says that he now bangs out 600 of the rolls at a time and freezes the ones he's not using immediately. When Common Kitchen opens, the rolls may find another home as slider buns.
Alice Levitt
Lamb meatballs with all the fixings
Diners were given four meatball choices, including one meatless ball, served with black beans and rice. We started with lamb balls served with orzo and chopped onions and peppers in a tomato-based sauce spiced with harissa. Instead of the handmade bowl in which it was served on Sunday, the truck will feature the same meatballs served in the warm, grilled pita I got on the side.
I tried a makeshift version of the future sandwich myself by stuffing meatballs in the bread and spreading them with cooling mint yogurt. In between, I enjoyed bites of crunchy cauliflower pickles flavored with preserved lemon.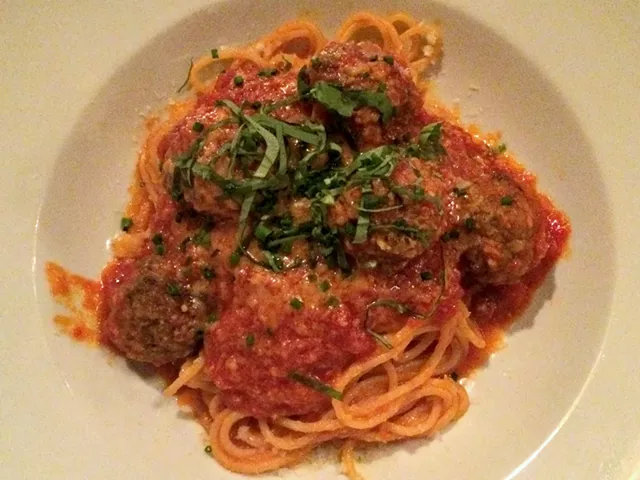 Alice Levitt
Beef meatballs over spaghetti
The next plate took me from Morocco to Italy. (The fourth option was a pork meatball served in a ramen-style broth.) Over chewy homemade spaghetti, Longworth's beef meatballs melted. Seriously, I don't know how they held together long enough to cook, but once in my mouth, they were all glorious liquid fat and and Parmesan. A heavy dose of fresh basil made the red sauce taste anything but basic.
Longworth says that he's been working closely with Randy George of Red Hen Baking Company to perfect a light baguette on which to serve the beef meatballs from the trailer. After 10 tests, "they're so dialed in and so good," the chef brags.
Longworth adds that Common Kitchen will serve four or five different meatballs a day, with each sandwich or bowl retailing for $7 to $9. The trailer will be open from 11 a.m. to 4 p.m., after which the Common team will transition to dinner inside the restaurant. The meatballs are already being sold frozen at the restaurant and will be available from the trailer, too.
Alice Levitt
An un-Common PB&J
The prix-fixe ended with a choice of tiny but rich Mason jar desserts. The PB&J was composed of a base of peanut butter mousse topped with a thin layer of fluffy cake that bore an almost suspicious resemblance to Wonder Bread. On top, a spread of sweet-and-tangy jelly completed the equation. Well, almost. A shower of peanuts and a peak of whipped cream were highlights of the little dessert.
I've long been a fan of the Common Man's maple panna cotta, served with a topping of maple popcorn. This was no different, though an orgy of round foods had left me less than primed for a sweet finish.
What it did do was make me excited to see what's to come from Common Kitchen. After an initial 12-day service, Longworth isn't sure what future plans will be for the trailer, but he sees pop-ups in the cards. And he hints that Burlington will be a destination. I'll be the first in line.
Alice Eats is a weekly blog feature devoted to reviewing restaurants where diners can get a meal for two for less than $45. Got a restaurant you'd love to see featured? Send it to alice@sevendaysvt.com.