With the holiday season officially upon us, we at the
Seven Days
food desk have cookies on the brain. Thus, we kick off our first monthly "Seven Best" list with an ode to some of our favorites in the sweet state of Vermont.
Rather than limiting ourselves to holiday cookies, we decided to take stock of the very best cookies (and cookie-like sweets) Vermont has to offer. From Magic Bars to classic chocolates chips, here are seven exemplary treats to sate your inner Cookie Monster. Just remember what the blue man himself learned back in 2004,
"A Cookie is a Sometimes Food.
" Or not.
1. Chocolate Chip Cookie, Bluebird Coffee Stop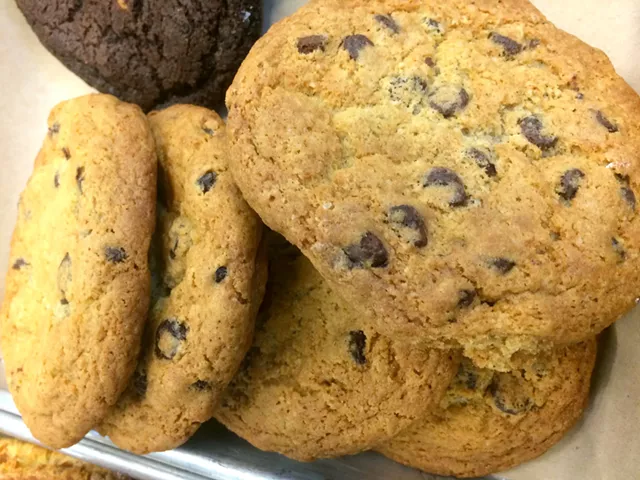 Alice Levitt
Chocolate chip cookies at Bluebird Coffee Stop at the Innovation Center
Burlington's recent chocolate chip history has been a saga of outstanding highs and gutting disappointment. For decades, there was the legendary, melty Fresh Market cookie on Pine Street. A year after that store closed in 2012, Guild Fine Meats cured what ailed us with a nutty, buttery version that we named
one of the best new dishes of 2013
. Now that Guild is gone, too,
Bluebird Coffee Stop
has taken up the mantle with an improved chocolate chip that we call our new favorite. At once soft and chewy, the crisp edges crackle with the flavor of butter while dark chocolate works its way into nearly every bite. Our lives can continue normally now with a classic cookie we can rely on. — A.L.
2. Chocolate Meringue, Myer's Bagel Bakery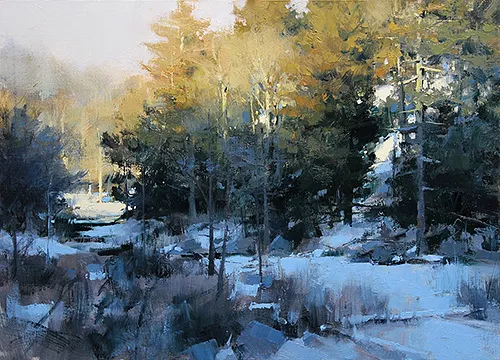 Photo courtesy of Emily Conn
Chocolate meringue cookies
Lately, Burlington's
Myer's Bagel Bakery
has been hitting its stride creating gluten-free equivalents of its
wheat-laden specialties
. For celiac sufferers, the chewy chocolate chip cookie might be a revelation, but we especially love a gluten-free treat with no wheat-filled cognate. Baker Emily Conn's chocolate meringue cookie seamlessly blends the melting of crunchy, chocolate flavored meringue with chocolate chunks. It's nearly impossible to discern where one substance ends and another begins. But understanding the cookie's magic might ruin the fun. — A.L.
3. Magic Bar, Bliss Village Store & Deli
Hannah Palmer Egan
Magic Bars from Bradford's Bliss Village Store & Deli
This cookie bar starts with a buttery layer of crushed graham crackers, followed by sweetened condensed milk, chocolate chips, butterscotch chips, nuts and toasted coconut, each layered on top of each other for a gooey, slightly salty, nutty, chocolatey delight.
The Bliss Village Store
in Bradford has been making and serving it (along with sandwiches, salads and fried goods) for decades; it's a local favorite worth stopping for. — H.P.E.
4. Monkey Bread, Birchgrove Baking
OK, so monkey bread isn't a cookie. If anything, it's more of a croissant-doughnut-hole hybrid. But as much as we love
Birchgrove's
soft chocolate chip cookies, we just had to salute the fun little bites that John Belding and Jennifer Toce also sell in their mobile Montpelier cookie cart. A skinny layer of caramel crunches on the outside with every bite, while butter squishes from the folds of laminated dough. Sure, it's not strictly a cookie, but it's one of our favorite bite-size sweets, as much fun to eat as any sweet biscuit. — A.L.
5. Vermont Maple Cookie, Sweet Crunch Bakeshop and Catering Company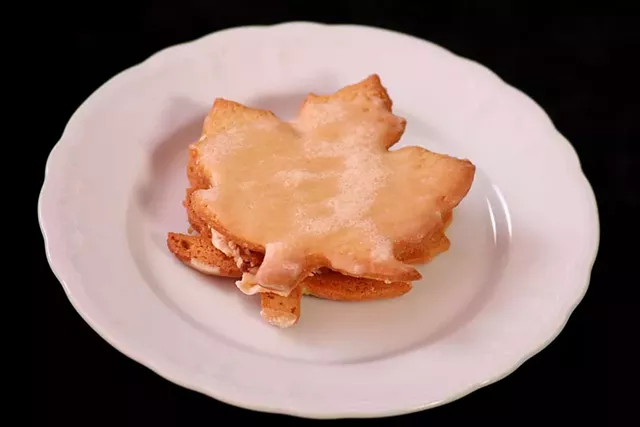 Matthew Thorsen
Sweet Crunch maple cookie sandwich
Rachael Ray likes them, which theoretically makes us hate them, but, sorry, there's just no arguing with Hyde Park's worst-kept secret at
Sweet Crunch Bakeshop
. The crunchy sugar cookie is all pointy edges, making it all the crisper. But the secret is a glaze of local maple syrup that brings a taste of the Green Mountains to practically every pore. — A.L.
6. S'mores Cookie, Cupboard Deli
I'm just a girl who "cain't say no" to s'mores in any form. For years, I was devoted to the Jeffersonville
Cupboard Deli's
s'mores bar, a crumbly graham cracker crust filled with a messy, melty orgy of bittersweet chocolate and sticky marshmallow. More recently, the dessert has been converted to cookie form, meaning the flavor I love in a size that doesn't take me a week to conquer.
7. Vermonter Cookie, Klinger's Bread Company
Hannah Palmer Egan
The Vermonter cookie from Klinger's
Studded with all manner of nuts, seeds and grains, the "Vermonter" cookie from
Klinger's Bread Company
in Burlington is hearty enough to quiet a hungry child (or food writer) between meals. And, for those of us who aren't super into sweets, it's a cookie that packs more flavor than sugar.
'Seven Best' is a series in which Seven Days food writers Alice Levitt and Hannah Palmer Egan sing the praises of their favorite examples of a particular dining category. Look for the posts the first Friday of each month.