133 Bank St., Burlington, 865-5200
Alice Levitt
It's the lazy Susan!
There are sacrifices involved in living in Vermont, to be sure. I recently wrote about
the hardship of life without a good Indian buffet
nearby. While I was stuck home writing a book through the summer and fall, I haven't had time to get to Montréal for dim sum. It's been painful. On Sunday, I finished that book, but I also couldn't wait anymore. I headed to
A Single Pebble
for its version of the comfort-food assault I'd been missing.
I'd only been once before, years ago when I still had the alternative of
Zen Gardens
, still my go-to for authentic Chinese, though it no longer serves dim sum. Unlike the format at Zen Gardens that had involved ordering specific dishes from a menu, A Single Pebble's method is more a micro version of what one would see in Hong Kong — or Montréal. Rather than multiple carts full of goodies, a single server brings forth a basket with a few revolving specialties as they emerge from the kitchen. She makes a check mark on your bill under the item's price each time you order.
Most of what we chose were in the "dumpling category," meaning they cost $5.99 a pop. Big-city dim sum eaters will likely cringe at this expense. I had to remind myself repeatedly that most of the dim sum I've eaten has been made from anonymous animals stacked on a truck from who knows where. At a Single Pebble, owner Chiuho Duval has local animals raised specifically for the restaurant at at LaPlatte River Angus Farm.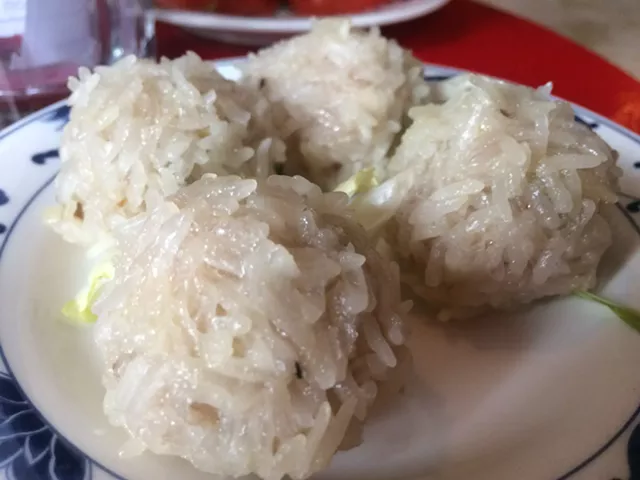 Alice Levitt
Lion's head meatballs
The other thing to note is that A Single Pebble's dim sum dishes are mostly not traditional. Cut with carrots and ginger, the lion's head meatballs didn't taste much like the sticky umami experience I'm used to. They were leaner and meaner, but also drier. I had to dip them in spicy mustard to hydrate the rice-and-pork balls.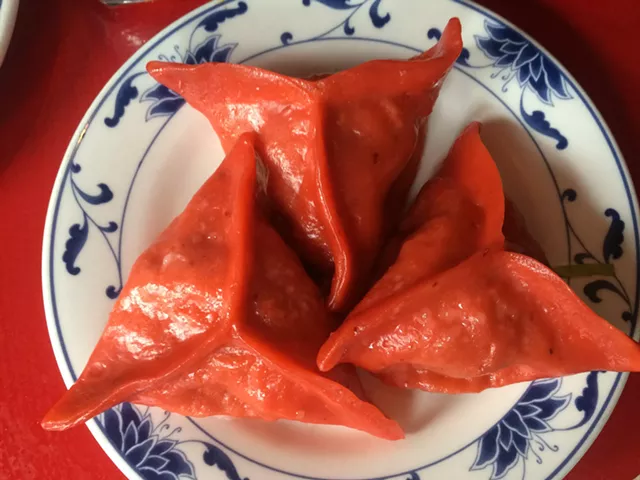 Alice Levitt
Chile-lily dumplings
There was no such issue with the other dumplings in my first round. The lily buds that lent the bright-red triangles their "chile-lily" moniker didn't add much, but the pork dumplings burst with juice when I bit in. A burn followed, thanks to Korean chile powder.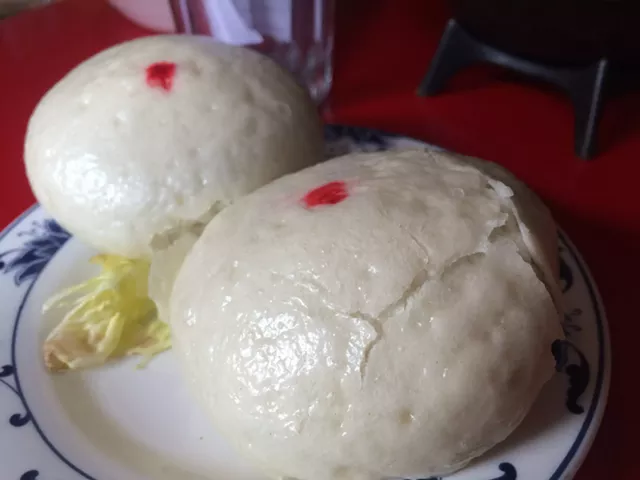 Alice Levitt
Peking duck bao
A dim sum meal isn't complete without some cha siu bao. There were none of the sweet pork buns in the rounds I saw (they are served on A Single Pebble's regular menu), but I was very curious about the alternative, a Peking duck bao. Sadly, it was so bland, even soy sauce couldn't save it. It was like eating a giant dough ball with a little bit of texture in the middle.
Alice Levitt
Grandmother's egg
But then the disappointment subsided. A dish called a grandmother's egg starred a soft-centered ova surrounded by bean sprouts, cilantro and sweet, Chinese-style bacon made from LaPlatte pigs. The well-balanced dish deserves to be added to the pantheon of Burlington breakfast classics. My only complaint is that it would be nice to have a spoon to scoop up all the meat and veggies enrobed in the soft, broken yolk.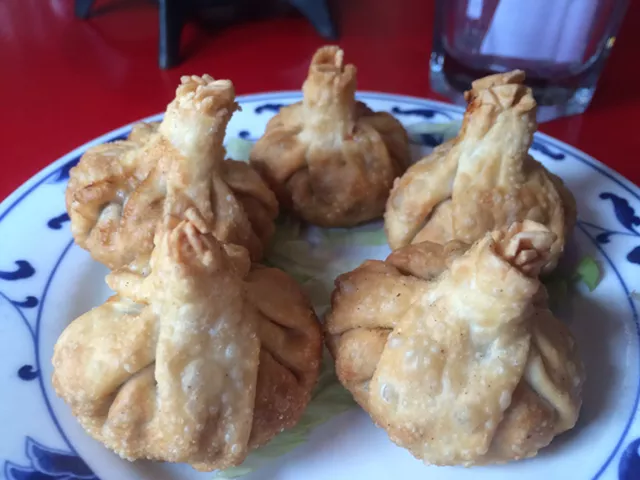 Alice Levitt
Smoky duck dumplings
The biggest, most complex flavor belonged to a plate of fried dumplings filled with smoky duck. While the outside crunched, the interior remained moist, with a smoky spice that built with each bite.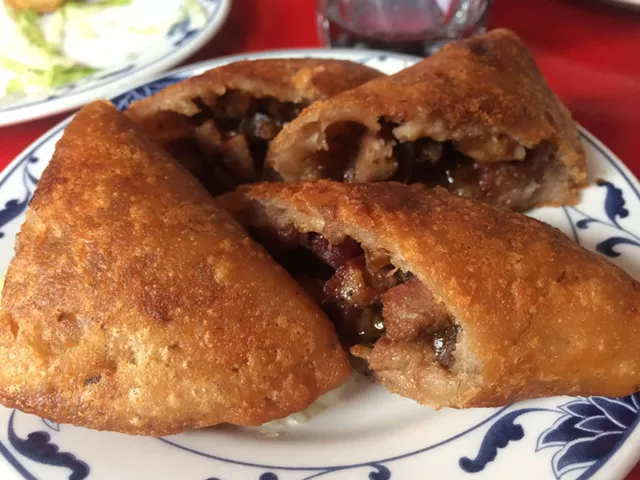 Alice Levitt
Pork and taro dumplings
Few pleasures are as lusty as that of the taro dumpling. The mashed root acts sort of like a potato when fried, with a soft inside and flaky, crisp outside. It's a textural marvel, improved with a great filling. The combination of sweet hanging pork, onions, mushrooms and oyster sauce fit the bill. I would happily have eaten a meal of just a series of plates of those dumplings, but I probably would have died.
Alice Levitt
Black bean pork spareribs
I was on track to hit my Alice Eats price point with no problem. But with two $7.99 plates ordered right at the end, I lost the plot. The cross-cut segments of pork spareribs were served in the tallest pile of them I've ever seen. So the price wasn't completely unfounded, but the little ribs were also among the driest, least flavorful versions I've had of the usually succulent steamed meat. But that doesn't mean I didn't like them. They were still ribs.
Alice Levitt
Beijing noodles
By that time, we were so full that we ended up just having a taste of the Beijing street noodles before asking to have them packed up with the remainder of the ribs to take home. I'd never had the garlicky flat noodles on the regular menu before, but tangled with thin slices of beautiful local beef, how could I resist? The meat soaked in the sauce of soy and Zhenjiang black vinegar admirably. And it provided a comforting lunch the next day.
Though my head knows that the ingredients at A Single Pebble are far better than what I'm seeing in Chinatown, the flavors of classic dishes couldn't compete. I will be back when I have a hankering and can't get out of town. But I'll stick to ordering what the chefs excel at: creative, Vermont-style takes on dim sum concepts.
Alice Eats is a weekly blog feature devoted to reviewing restaurants where diners can get a meal for two for less than $35. Got a restaurant you'd love to see featured? Send it to alice@sevendaysvt.com.