400 Pine St., Burlington, 540-0406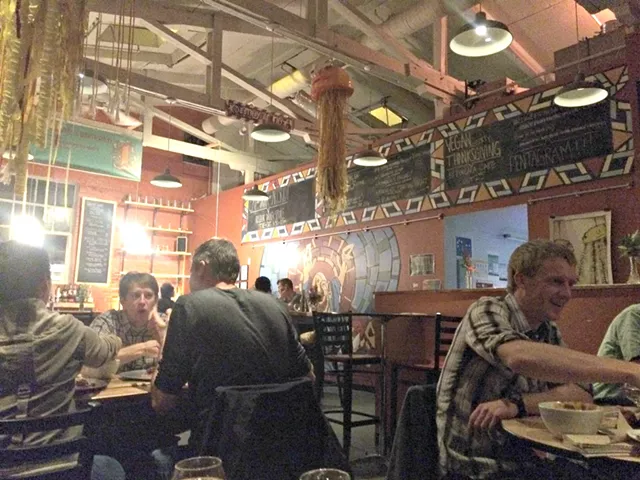 Alice Levitt
Dining room at ArtsRiot
ArtsRiot'
s kitchen is in the middle of a shake-up. The first week of this month was the last for the
Kitchen Collective
, a model that allowed fledgling businesses to get their feet wet before opening a full-scale restaurant. George Lambertson is now ArtsRiot's full-time chef, serving dinner from Tuesday through Saturday (look for more info from
Seven Days
soon), but he'll continue to cede the kitchen to other cooks for special events.
Since February, monthly
Authentic Ethiopian Nights
have been gaining a particularly devoted following. On Saturday night, I finally had the opportunity to taste the fare for myself and learn why the dinners require reservations, even though the dining room expands into the gallery for the event.
I first heard the name Mulu Tewelde several years ago, when the Eritrean native began catering private parties. She and fellow Abyssinian Alganesh Michael may be from the country right next door to Ethiopia, but the food is nearly identical. I've never been satisfied with ¡Duino! (Duende)'s Ethiopian nights and recently lost my African food destination, African Safari Store, when it closed on North Street.
I was due for great grub from the African continent. And I got it.
Alice Levitt
Veggie lovers' combo with yebeg tibbs
First, the injera. I've long been mildly obsessed with the towel-textured pancakes made from fermented teff flour. But thinking about Tewelde and Michael's version, I am salivating all over again. What's usually lightly fermented to give it a bubbly body was taken to a point of sharpness that rivaled the most piquant San Francisco sourdoughs or Indian idlis. Besides a platter lined with the bread, my dining partner and I each received two good-size roll-ups, meant to be torn off and used to pick up food in place of silverware.
We ordered the veggie lovers' combo ($16) and marinated lamb called yebeg tibbs ($18). The lamb was presented in the middle of the platter, the crowning glory of a garden's worth of veggies and pulses.
I started from the exterior of the plate, with the top dish that looks suspiciously like steak fries with carrots and green beans mixed in. And that's pretty much exactly what it tasted like, though all were lightly sautéed, not deep-fried. It was the weakest dish and could have used some salt.
Working counter-clockwise, I hit the gomen alicha, a cabbage creation sweetened by caramelized onions. It was a lighter, tangier version of a similar sauté simply known as gomen, made of collard greens, ginger and garlic.
Alice Levitt
Yemesser alicha and yemesser watt
To be frank, when I'm eating Ethiopian (or, in this case, Eritrean) food, I'm in it for the lentils. The curry-flavored yemesser alicha at left was mild and comfortingly meaty. But I look for spice in my African food. The yemesser watt (right) was listed on the menu as hot, thanks to a dash of berbere. While it betrayed more of a tingle than the other stews, it was far too polite for my taste.
For the same reason, I regret not ordering doro watt instead of the yebeg tibbs. I skipped the chicken and egg stew because I make a pretty good approximation at home. I was more curious to taste the marinated lamb with rosemary, which I'd never had before. Despite the presence of fresh tomatoes and jalapeños in the mix, the lamb had little taste of its own. Once I combined it with the yemesser watt, magic happened, but next time I'll order the meat lovers' combo to try both the doro watt and the braised beef known as yesiga watt.
My wish for more spice aside, this is the Ethiopian food I've been dreaming of finding in Burlington. I'm already making plans to attend the next Authentic Ethiopian Night. I can hardly wait.
Alice Eats is a weekly blog feature devoted to reviewing restaurants where diners can get a meal for two for less than $35. Got a restaurant you'd love to see featured? Send it to alice@sevendaysvt.com.