121 Connor Way, Williston, 288-1017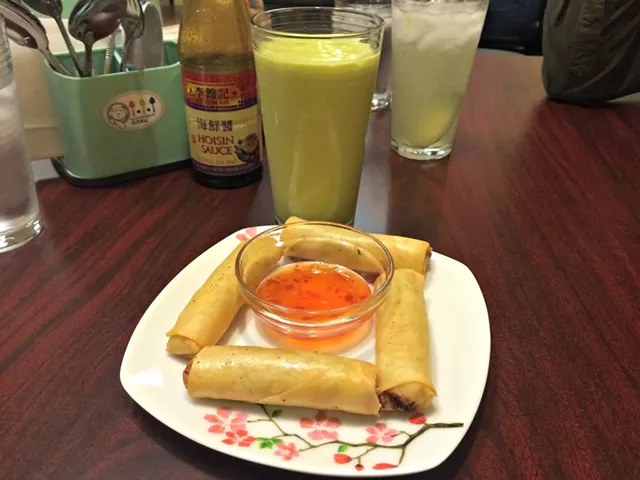 Alice Levitt
Cha gio with avocado smoothie and lemonade
Apparently, it can be risky attempting to open an authentic ethnic restaurant in Maple Tree Place. While I dined anonymously at 2-month-old
Pho K&K
last night, co-owner Khanh Le told me that early customers complained about the taste of his food. Specifically, they thought there was too much of it. Unfortunately for those of us who like big flavor, he's been listening.
So what's a critic to do? I'm stuck reviewing what I tried, not what I believe Le and his wife, Khanh Pham, are capable of. There were hints of skill throughout my meal, but it was stymied by the utter lack of salt. Still, given the value offered and the excellent location, I'm willing to give this family business another try. Here's why:
1.
The beverages need no tweaking.
Fresh-squeezed lemonade ($2.50) is pulpy and as blindingly sweet as the Vietnamese refresher should be. In an uncommon touch, the sugar crystals are incorporated seamlessly, making this version easier on my teeth.
Most Vietnamese spots that list avocado smoothies on the menu seem to have them there only for decoration. There are actual avocados in the kitchen at Pho K&K, and the drink is smooth and just thick enough.
Last night, the avocado was just south of ripe, but I'll write it off as bad timing. How could I not, considering how well the drink paired with the delicately fried cha gio ($3.50)? The egg rolls were heavy on cabbage and pork, giving them a fresher taste than most of their kind, which are so often dominated by rice noodles. A little more ginger and salt, and this version could be a contender.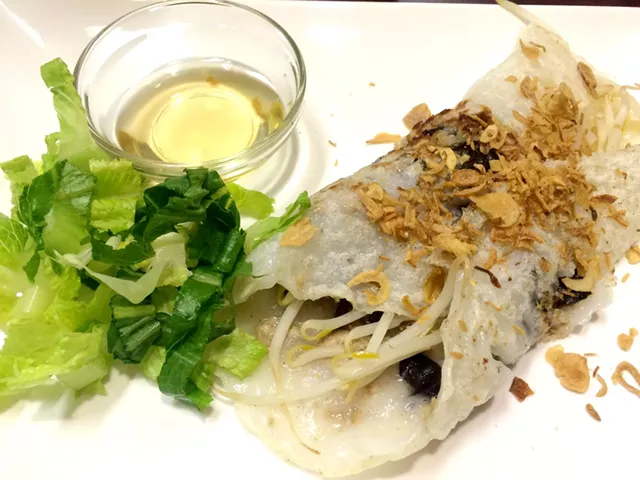 Alice Levitt
Banh cuon
2.
OMG, banh cuon.
For $4.99, I enjoyed a meal-sized rice crêpe last night. The fish sauce on the side was nigh on tasteless, so I added a liberal dose of Sriracha. It was just enough to bring out the splendors of this dish that's rarely seen in Vermont.
Somewhere between a soft Chinese rice-noodle roll and a crisp Indian dosa, the lightly fermented rice batter was steamed with ground pork inside, allowing it to soak up the round, fatty glories of the meat. Inside, crisp bean sprouts and toothsome little mushrooms added texture, if not much flavor. Dried shallots lent a nice dash of crunch and salt as satisfying as any junk food. It's a $5 meal far more satisfying than what you'll find at Subway.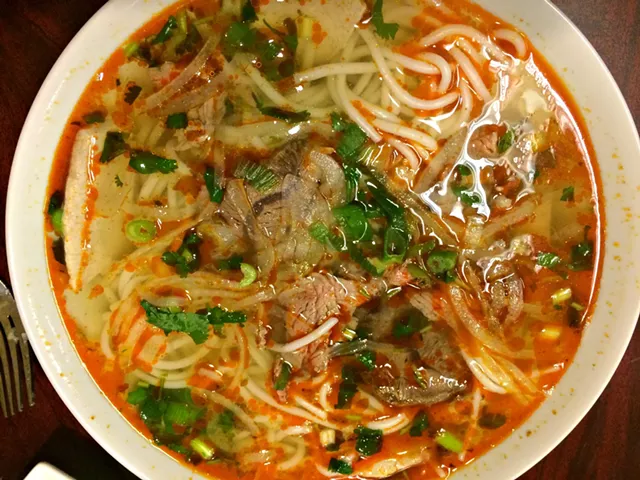 Alice Levitt
Bún bò Huế
3.
No chile oil here.
Bún bò Huế, the dominant soup in the central Vietnamese city of Huế, isn't widely available in Vermont, but I've had a couple of other iterations in the Green Mountains. Both here and farther afield, I'm accustomed to the soup being spiced with chile oil.
But at Pho K&K, Le makes a chile paste from scratch to heat the dish. Sadly, there just wasn't enough of it when I tasted the soup last night. I asked for more in my take-out container and expect an oral conflagration when I give it a try.
While there were no fireworks on this visit, the homemade condiment is indicative of the care the family seems to take with its food. Ultra-thinly sliced raw beef and cooked pork were joined by braised brisket in the broth. The wide noodles were cooked al dente and paired with emerald-colored scallions and cilantro. Which brings me to my final thought...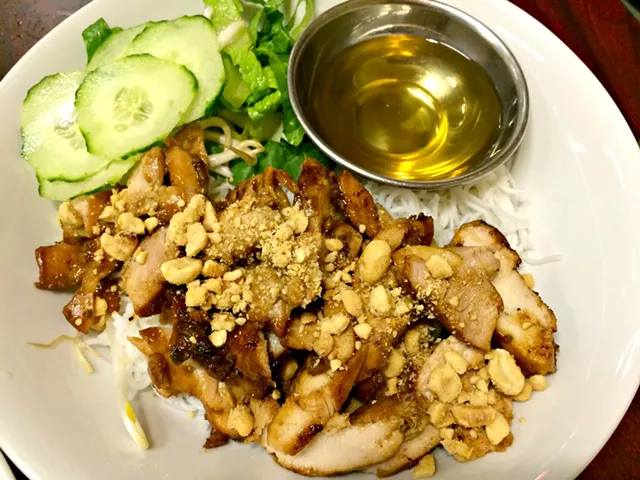 Alice Levitt
Bun ga nuong
4.
Yep, it's fresh.
Even on a Monday night, there were no flaccid, brown bean sprouts to be seen. Even the most disappointing dish, a chicken bun that seemed completely lacking in any seasoning, glimmered with newly cut cucumbers and lettuce. Granted, the mint promised on the menu was missing and greatly missed. That bright taste of summer could have transformed the dish, even without salt.
So you see why I'm conflicted. The owners of Pho K&K clearly care deeply about what they're doing and have several things very much in order. But being "cooked down to" makes Alice a very cranky girl. I left the restaurant feeling full, but unsatisfied.
My love affair with the banh cuon may well necessitate a sequel. But next time, I'll order it with the directive, "Cook it for me as you would for yourself." I hope invoking the culinary golden rule will make things right.
Alice Eats is a weekly blog feature devoted to reviewing restaurants where diners can get a meal for two for less than $35. Got a restaurant you'd love to see featured? Send it to alice@sevendaysvt.com.