119 Pearl Street, Essex Junction, 879-7111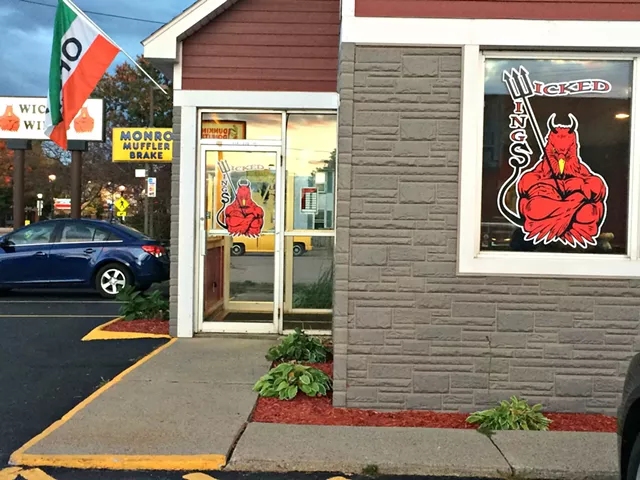 It's hard to miss the devilish bird with one yellow eye. Though the other eye is red, apparently the victim of a computer's auto-fill setting, you get the idea: This steroidal rooster — or whatever that horned avian is supposed to be — certainly gets his point across: There are wings here, they are hot and you should eat them. Sold,
Wicked Wings.
I think we have an understanding.
The space at 119 Pearl Street has been a revolving door in recent years, with incarnations including a Southeast Asian spot I really liked and a pizza place I didn't quite so much. In buildings such as this one, I always hope for a restaurant that will find its "forever home," breaking the "curse." But it's harder when the modest surroundings retain vestiges of previous tenants.
On a Sunday evening, the space was about half full, but locals ducked in for take-out. Those who stuck around seemed to be there for the game, shown on several flatscreen TVs. All had giant platters of wings, which I soon learned was really the point.
The smallest order of wings contains 10. In order to try more than one flavor, you must order at least 20. Orders creep up to 50, which one family seated behind me demolished. This propensity for quantity made it difficult for just two people to try much. The signature "Wicked Wings," fried, then grilled, then smoked, are only available as a 20-pack, for $20.95, prohibitive within the Alice Eats price point.
10 wings, $9.25 plus 50 cents per sauce
But our server helped us work around the ungainly constraints. We ordered 10 wings, with three sauces on the side in order to try a few. I was most curious about the wasabi. But it wasn't really sauce, just thick, doughy horseradish. It was too viscous to coat the wing, and left a painfully spicy blob wherever applied.
The wings themselves were as standard as could be. Pleasantly crisp, but dry within.The garlic-Parmesan sauce helped with moisture, but only because it appeared to be little more than butter with mysterious black speckles.
Luckily, the Wicked Hot sauce was a winner. The second hottest, after something called "Melt Your Face Off," this was probably hotter than most Buffalo sauces at their most extreme. But despite tingling, numbing sensations, the smoke and acid balanced the sauce into something I couldn't stop using to coat the rest of my drumettes.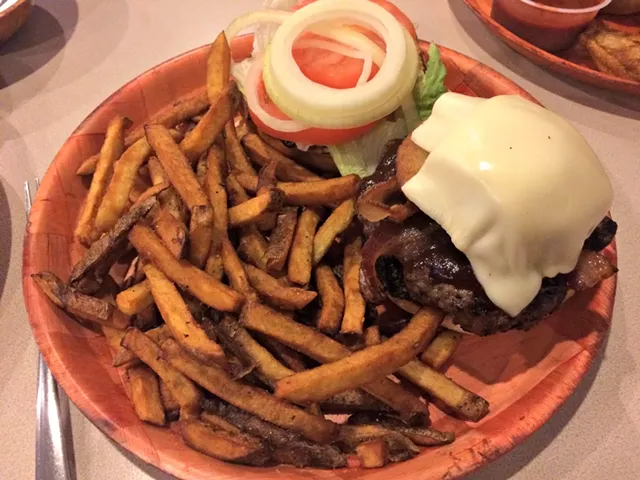 The BBQ burger I ordered medium-rare came closer than I expected, though nearer medium. The bacon on top could have been a bit crispier, but the single onion ring made me wish I'd sprung for the upcharge to get those instead of fries. Not that there was anything wrong with them. As far as dark, skin-on, Vermont-style fries go, these had crisper jackets than most.
The patty was nicely seasoned, though the ultimate flavor was dominated by a molasses-black, out-of-the-bottle barbecue sauce that slopped out of the bun and onto the plate.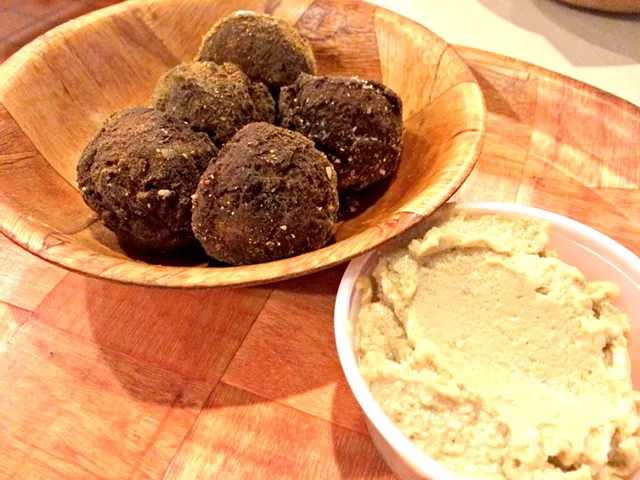 The sauces as a whole still need some tinkering at Wicked Wings. Blue cheese dressing was so thick with cheese that it didn't work as a dip. The most blatant example, though, was the "tahini" served with an appetizer of falafel bites. Since the falafel were, to put it kindly, lightly flavored, they really could have used some pizzazz. The tahini on the side, though, was so bitter that I couldn't try a second bite. And I thought I'd never met a hummus or tahini I didn't like.
Strangely, my favorite thing at Wicked Wings was something I usually don't love. My dining partner ordered a peanut-butter milkshake, encouraged by the fact that the shake equipment still bore the name of its previous home, QTees.
Peanut-butter desserts usually just taste like satay sauce to me, and don't work as a sweet. But the thick mix of vanilla and peanut was balanced just right. I would return for it, or one of the many other flavors on offer. But if I'm going for wings, I'll bring a crowd and be less adventurous in my ordering. Wicked Hot all the way.
Alice Eats is a weekly blog feature devoted to reviewing restaurants where diners can get a meal for two for less than $35. Got a restaurant you'd love to see featured? Send it to alice@sevendaysvt.com.