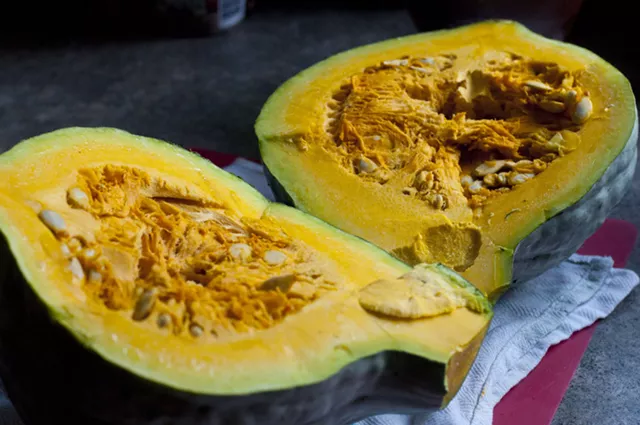 Photos: Hannah Palmer Egan
Last week, I stumbled on a boatload (or a porch full, as it was) of stunning Hubbard squash at the
WORLD FAMOUS Evansville Trading Post
in the Northeast Kingdom. I couldn't get away without snapping up a couple (they keep for months and only get sweeter as they age). This morning I roasted half of one with maple syrup and butter using my mother's method, which works well with any amber-fleshed winter squash.
Hubbards are one of the largest winter squash, sometimes swelling to close to two feet long and a foot or more across. Their skin is tough and thick — don't dare try and peel them with a potato peeler — and their flesh is head-bashing hard and kind of mealy. But when roasted and mashed, their flavor is deeper than the easier-to-handle butternut or acorn, nutty and earthy and, I swear, has a hint of fallen leaves, too. The flavor of autumn in New England.
Post-roasting, pre-mashing

Ingredients:
Squash
Butter
Maple syrup
Preparation:
Preheat oven to 375 degrees as you cut and de-seed the squash.
For larger squash (such as the Hubbard), rest it on a folded towel so it's cradled and cushioned and won't slip or roll around as you cut into it. Stab it somewhere along one of its lateral ribs, pulling the knife toward the towel to cut through one side. Flip and repeat until you get through the whole thing. Don't worry if it's a sloppy cut — you're just splitting the squash so you can roast it and you'll mash it after, anyway.
Scoop out the seeds and pulp with a spoon and score the flesh as deeply as you can without poking all the way through. The skin must stay intact or the butter and maple you're about to pour into the squash will leak out. And, somewhere, a squash angel will lose its wings.
Fill the cup halfway with maple and as much butter as you dare (the scoring allows the butter and maple to seep in) and bake for 30-45 minutes, basting frequently, until you can easily scoop out the flesh with a spoon. Cover and let cool to room temp.
When it's cool enough to handle, scoop the squash away from the skin and mash with a potato masher. If it's too dry, add more butter and maple until it reaches the right consistency and serve warm.