207 Colchester Avenue, 862-7800
I often think that my 12-year-old self would be pretty satisfied with how my life turned out. My boyfriend and I can play
Street Fighter II
at
an arcade that also serves food and video-game-themed cocktails
. I get to eat out for a living. And I don't have kids, so I can have fun without finding a babysitter.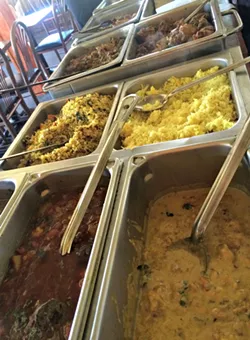 But 12-year-old Alice would be horrified at the state of my Sundays. At that time in my life, I rose each week to worship in the institution that still remains closest to my heart: the Indian buffet.
But as often happens, my religion fell away in the Green Mountains. Not by choice but by circumstance. The Indian restaurants I found in northern Vermont were pallid imitations of what I'd grown up with. I left my subcontinental food stops to visits in Montréal or New York.
But this Sunday, I was desperate. Over the last couple of years, I'd heard rumblings that, along with a major renovation inside and a new sign outside, culinary matters at
India House
had improved, as well.
So I decided to open my mind and try to forget about the years of flavorless curries and off-tasting meat. I learned from speaking to the owners that they had bought out their previous partners, The new effort was clear, with a cleaner, friendlier look in the dining room.
Good intentions do not good food make. Still, I was cautiously optimistic when I saw the colorful stews being replenished in their chafing dishes.
An ethnically diverse, cross-generational clientele was gathered for the $10.50 Sunday buffet. Some of them must have good taste, right?
Tandoori chicken is the barometer of any Indian buffet experience. If it is bad, the whole thing will be. A standout bird from the tandoor always augurs good things.
Always
.
The version at India House was ... not horrible. Though dry even when it had just left the kitchen, the meat did have flavor, and was a clear sign of improvement over the India House of yore.
The veggie pakora was similarly dry, but the chickpea fritter was well spiced with lots of turmeric and cumin. My dining partner called it "Indian falafel." Eaten with that in mind, the dryness didn't matter as much.
The buffet items were not labeled, so most of what we tried combined into a mire of bland, indiscernible mush. Even chutney, pickles and raita — usually tent poles of flavor — were watery and had little taste.
But there were a couple of standouts. Keema mattar, a stew of ground lamb, peas and potatoes, was tangy and sweet, with a whisper of aromatic spice.
Kadhi pakora is a dish I don't expect to see at the average North Indian take-out spot, but it was on the buffet at India House and is on the regular menu, as well. Rather than using paneer as a vegetarian protein, the curry is built around little blobs of pakora dough, sort of an Indian chicken-and-dumplings, sans chicken. The creamy sauce struck comforting notes similar to korma, but mustard gave it an unexpected zip.
I had already balked somewhat at the hygiene of sending diners back to the buffet with the same plate they were given when they arrived. When time came for dessert, I had to comb through my pile of bowls for one that didn't have the remains of greens or rice stuck to the sides.
I was glad I did. The warm kheer (rice pudding) sang with cardamom. In fact, it was one of the most robustly spiced dishes I tried at the buffet.
Will I return to India House? Perhaps, in between trips to big-city restaurants. I've learned not to go there expecting fireworks, but this time, I found a few embers. The kadhi pakora and kheer were both very good and worthy of repeat. India House may not become my regular Sunday haunt, but I no longer regard it with dismay.
Alice Eats is a weekly blog feature devoted to reviewing restaurants where diners can get a meal for two for less than $35. Got a restaurant you'd love to see featured? Send it to alice@sevendaysvt.com.