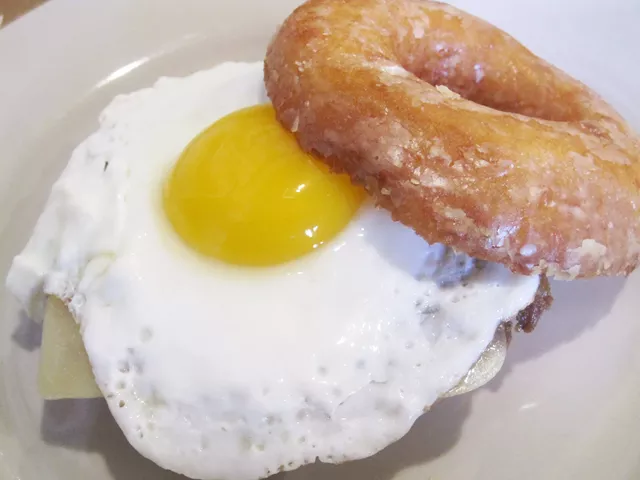 Alice Levitt
The Bad Idea
Updated 09/19/14 with more information from Jed Davis, Farmhouse Group's managing partner.
Maybe the Bad Idea — a sandwich composed of a homemade maple doughnut, house sausage, egg and cheese — was more prophetic than addictive. Farmhouse Group owner Jed Davis announced today via email and social media that Guild Fine Meats, the home of the Bad Idea, Piggly Wiggly Poutine and a slew of sandwiches prepared from homemade deli meats, will serve its final meals next Thursday, September 25.
Via email, Davis said, "We are very proud of this restaurant – the ambition behind the concept, and the daily execution in particular. Our staff was exceptional. We hold our heads high knowing that we created and delivered a unique concept to the market, and that we excelled with quality product and service. Unfortunately, not all businesses work out."
With a steady stream of customers, to the casual observer, the business seemed to be working out just fine. But in a phone conversation after this story was originally posted, Davis explained that profit margins were to blame.
"It can be a tough gig, the farm-to-table restaurant movement. You're operating in a world with much, much higher costs than other people," he said. "That model works brilliantly in some cases and unfortunately, it just didn't work here."
While the Farmhouse Tap & Grill Burger is a successful vehicle for the local meats produced at the company's commissary, Davis said a deli sandwich proved to be a less cost-effective fit. "The guest wanted [the sandwiches] to be two bucks less and the business needed ti to be two bucks more. That value conversation just break down," he explained.
The Guild Fine Meats products sold at 111 St. Paul Street also make their ways into the dishes at Davis' four other Farmhouse Group restaurants, including Guild Tavern, Pascolo Ristorante and El Cortijo Taqueria Y Cantina. Bacon, sausages and deli meats from the label are already available at City Market and Healthy Living.
But what will become of the space? Will the prolific Farmhouse Group try its luck with another concept? "That's undetermined right now," Davis told
Seven Days
. "We're going to feel that out."
Davis and his team are also working to find potential homes at their other restaurants for some of GFM's most popular sandwiches and baked goods.