Often with cooking, necessity is the mother of innovation. Faced with another massive, late-summer garden zucchini, I went to make a pie but, feeling lazy, planned to go the phyllo-crust route. I only make crusts from scratch in late fall and winter. Or that's the rule for today.
I pulled the phyllo from the freezer, went to unroll it and (surprise), it splintered into a million paper-thin pieces — go figure, I left it very loosely wrapped last time I used it ... So my pie flew to the sky but I called up my loaf pan, (always waiting in the cupboard) and layered the broken phyllo in the bottom with honey and butter and zucchini stuffing and called it a day.
It's sweet and light, a little salty, warming and delightful, and yields about three cups of zucchini water for later use.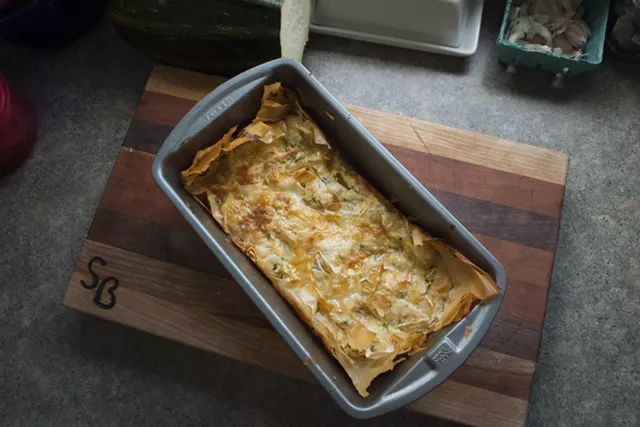 Honeyed Zucchini Layer Pie
Serves 8 as dessert; 4-6 for breakfast
Ingredients:
6 cups zucchini, shredded
1 teaspoon salt
Juice of 1 lemon
3 egg whites
1/4 cup sugar
1/2 teaspoon ground coriander
1 package frozen phyllo dough
1/2 stick of butter
1/2 cup honey
Preparation:
Preheat oven to 375 degrees.
Shred zucchini with a grater or food processor, sprinkle with 1/2 the salt and 1/2 the lemon juice, and place in a large bowl. Let sit 20 minutes or until the water leaches from the squash.
Strain the zucchini in a sieve, applying some force, to remove the rest of the liquid (as I've noted before,
the water makes a beautiful soup
or dressing base, so save it!). You should end up with about 3 cups of semi-dry zucchini shreds. Put those back in the big bowl.
Mix egg whites with sugar, remaining salt and lemon juice and coriander, and beat until frothy. Mix this with the zucchini.
Generously butter a loaf pan and place a a few sheets ("one layer") of phyllo in the bottom. These can be shredded like mine, or whole, no matter. Cut the butter into sliver-thin pats and place three or four of these on the phyllo. Drizzle with honey and add a few other layers of phyllo. Spoon about a cup of the zucchini mixture onto the dough and repeat (phyllo/butter/honey/phyllo/zucchini...) until you fill the pan or run out of ingredients. The top layer should be phyllo, buttered and honeyed.
Bake 40-50 minutes on the bottom oven rack until golden grown.
Serve warm, with or without creme fraiche.