All photos: Hannah Palmer Egan
I first made this dish in college, not long after returning from Italy, where I learned that amazing meals could be had using just a handful of decent ingredients. It's one of those early recipes that endures — easy, flexible, delicious — and is a go-to crowd pleaser. I make it in a pinch when all I have in the house are tomatoes, pasta, cheese and, if I'm lucky, deli meat.
With half a dozen past-prime tomatoes (some from
last week's shenanigans at New Village Farm
, some via mom delivery) this was just the thing last night. What's cool about this recipe is that the pasta cooks in the liquid that leaches from the raw tomatoes as they cook, so it absorbs their rich flavor and requires virtually zero seasoning. The ham and cheese provide plenty of salt to lift the dish from the doldrums.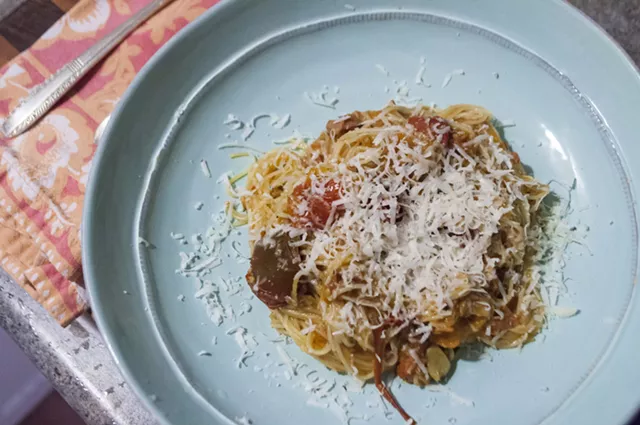 Pasta Pomodoro With Ham
Serves 4-6 as a course, or 2 as a meal
Ingredients:
2-3 tablespoons extra-virgin olive oil
1 clove garlic, minced
1 cup deli ham, chopped*
4 cups tomatoes, quartered
1/2 pound angel hair pasta
Salt and pepper to taste
1 cup pecorino Romano
Preparation:
In a large skillet, heat oil over medium heat. Simmer garlic for 1-2 minutes, then add ham and cook, stirring occasionally, for 3-5 minutes until the ham just begins to crisp around the edges. Add the tomatoes and cook for 10-15 minutes until they dissolve into a loose, very watery sauce.
At 15 minutes, add the pasta to the tomato mixture, making sure all the pasta is submerged in the sauce. Cover and cook over medium-low heat, stirring often, until pasta is al dente, about 7-10 minutes.**
Dust with freshly grated pecorino or Parmesan and serve immediately.
*For a dressier dish, use prosciutto or fine Spanish ham.
**Pasta cooking time depends on the moisture content of the tomatoes. With drier, meatier varieties, the sauce may start to dry up a little before the pasta is cooked; if that happens, add a 1/2 cup of water, cover and simmer until it is done. In the alternative, if the pasta is cooked and the sauce is still very watery, increase heat to medium-high and cook uncovered, stirring constantly, until the excess water cooks off.