1 Market Place, Unit 25, Essex Junction, 871-5835
Alice Levitt
Pinxto completo
For whatever reason, Spanish food simply hasn't caught on in the Green Mountains. The few attempts in Plainfield, Montpelier and Burlington have been short lived. It was a risk, then, for New Jersey native Adam McGinnis to open a tapas spot in Vermont, let alone relatively conservative Essex Junction.
In the area off Susie Wilson Road known to locals as the Red Mall, Uncle Pop Pop's lies at the back and requires a bit of effort to find if you're not from the 'hood. Perhaps that's why my dining partner and I were alone at the 25-seat restaurant when we arrived on Saturday about 7 p.m. Our extraordinarily well-informed server told us lunch business has been better than dinner, thus far.
Besides a special of $5 glasses of wine (we ordered a fruity Vetiver), our server's major recommendation was that we try the pinxto completo. For $3, we were given six toothpicks stacked with a slice each of tomato, avocado and chorizo. With the hard sell, I was expecting something a little more, well, special. This looked like something I'd see at a potluck.
The chorizo was more finely ground than I'm used to, which gave it the texture of a hot dog with the spice of the picante sausage. But still, a boost from the sauce would have helped. The one that accompanied it was billed as a lemon-garlic aioli but was thin and bitter. Even the generous pile of saffron on top didn't help.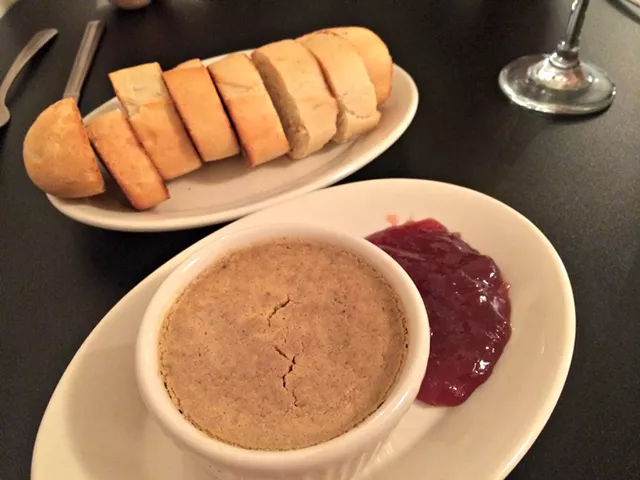 Alice Levitt
Pig and chicken liver mousse
Much of McGinnis' menu is based on Spanish imports, from cheese to booze. But he accompanied his pig-and-chicken liver mousse tapa ($7.95) with spiced strawberry-rhubarb jam from Vermont's Marsh Hollow. Fruit and liver can be a wonderful combination, but the underseasoned pâté had a mineral flavor so strong that it overwhelmed the less obtrusive strawberry and rhubarb.
Though the server said the mousse would be served with crostini, it came instead with a whole loaf of lightly toasted bread that reminded me of supermarket Italian loaves. Still, there was so much of it, my other half and I eventually figured out a ratio of pâté to jam that worked for us.
Alice Levitt
Uncle Pop Pop's Old Fashioned
Matters improved when the sandwiches arrived. It was clear why those are becoming a lunch staple. The plate above costs $6 for a croissant sandwich, soup and Vermont cheddar balls. The last closely resembled bite-sized balls of Brazilian pão de queijo, a hard-to-find treat in Vermont since Souza's closed in Burlington. I would have been very happy with a plate completely filled with them.
I was less sold on the soup, a combination of chunky tomato and butternut squash, which did neither justice. The result was mostly the sweet taste of squash, with just enough tomato to give it a slightly off-putting color and hint of sourness.
But I found the very simple croissant, filled with salty Serrano ham, optimally satisfying. The pastry seemed to suffer from having steamed in a bag fresh from the oven, losing its crisp crust, but the buttery flakes mixed with slivers of ham did the job.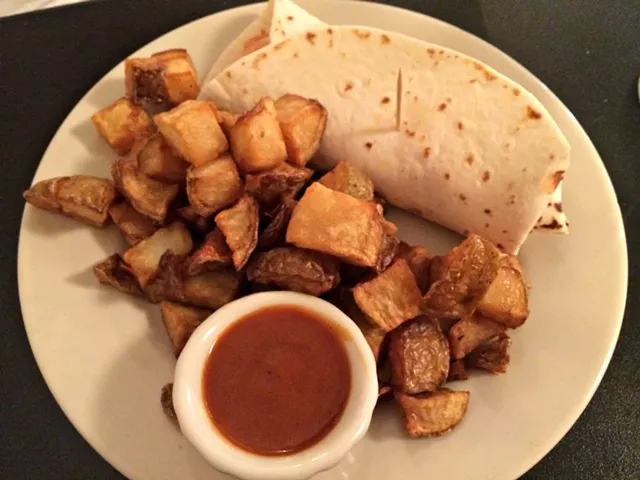 Alice Levitt
Honey-Smoked Turkey Cheesesteak
Perhaps the most peculiar dish on the menu was something called a "turkey cheesesteak" ($6.95). But that wasn't really what the dish above was. It was a wrap filled with a slurry of fried, confetti-sized chunks of turkey and a mix of manchego (the server said Iberico, but that's the same thing), p'tit Basque and ... American. And it was sort of great, in a trashy,
"Snack-Off"
kind of way. There was also a mix of three types of saffron, which added minimal flavor amid the strong cheeses but was still plenty of fun.
Next time, though, if I order patatas bravas for an extra $2, I'll request ketchup instead of the "spicy Spanish tomato sauce." It mostly tasted of uncooked wine, which is not a great pairing with fried potatoes or anything else.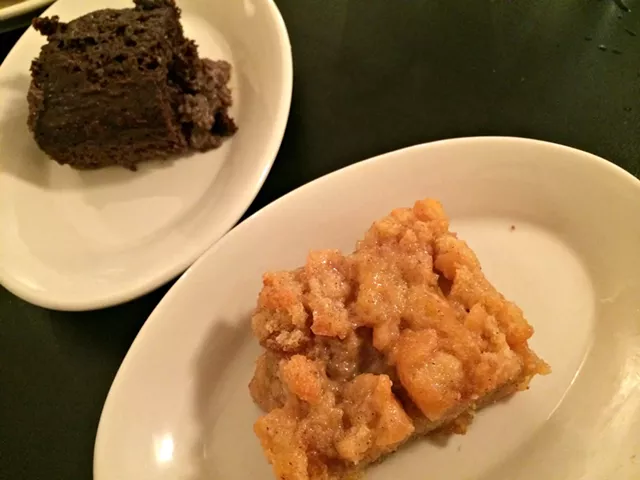 Alice Levitt
Doughnut bread pudding (foreground) and dark-chocolate tres leches cake
In the end, McGinnis distinguished himself most as a baker. Both desserts I tried were a pleasure. And at three bucks a pop, I didn't mind ordering two. The doughnut bread pudding was speckled with cinnamon and was served warm. It was just as tender as the meltingly milky tres leches cake. McGinnis' version had an uncommon bonus: chocolate. Strangely, the flavor of the cake was almost identical to a Dunkin' Donuts chocolate glazed. In a good way.
It's possible I ordered the wrong things. On Friday nights, the restaurant offers a $40 paella for two. It was also available when I visited on a Saturday, but even if the price had fit into my Alice Eats constraints, I had a movie to catch and the hourlong wait time wouldn't have worked.
But for the price, few things in Chittenden County can compete. A sandwich, soup and cheese bread, with dessert, for $9? That kind of deal could keep Vermont's latest Spanish eatery afloat.
Alice Eats is a weekly blog feature devoted to reviewing restaurants where diners can get a meal for two for less than $35. Got a restaurant you'd love to see featured? Send it to alice@sevendaysvt.com.