All photos: Hannah Palmer Egan
For many months before I left New York, I wrote a
weekly cookbook column for the Village Voice
, featuring books new and old, general and specific — most of them authored by chefs I'd worked with on stories as I ate, and wrote, my way through their restaurants in the big city.
The cookbooks flooded in, more than I could ever feature in the column. Still, I read them all, and I've been eyeing an Italian peasant soup in
Michele Scicolone's gorgeous Italian Vegetable Cookbook
(Houghton Mifflin Harcourt, March 2014) for months, waiting for the right tomato moment.
Last night it happened. I was at Shelburne's
New Village Farm
for milk and eggs, and lining every surface in the farmstand were flawlessly ripe heirloom tomatoes. The rainbow array included some of my favorite varieties — at a very reasonable $4 per pound. I greedily grabbed a couple pounds of green zebras and a dark-red variety (likely black krim) and headed home, unsure of what I'd do with them.
Then I remembered Scicolone's recipe. It's super easy and, since there's egg and bread involved, makes a lovely breakfast. Though it's a light, well-balanced meal at any hour.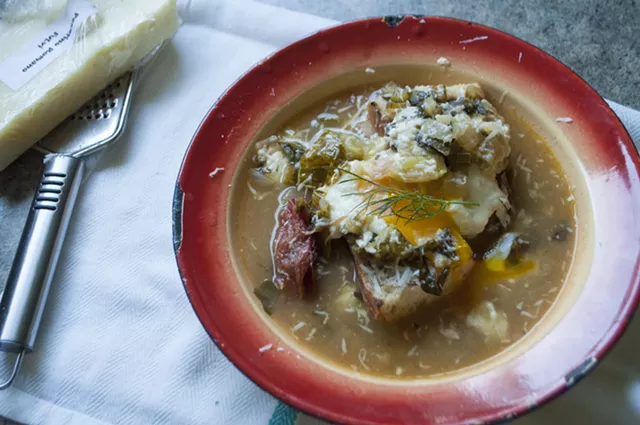 Acquacotta (Tomato and Bread Soup)
From Michele Scicolone's
Italian Vegetable Cookbook*
Serves 4
Ingredients:

1 large onion, finely chopped
1 celery rib, finely chopped
3 tablespoons extra-virgin olive oil
2 garlic cloves, finely chopped
1 pound ripe plum tomatoes, chopped, with their juice, or 2 cups chopped canned Italian tomatoes, with their juice**
4 cups rich vegetable broth, or water
Salt and freshly ground pepper
4 large eggs
4 slices Italian bread, toasted
1/4 cup freshly grated Pecorino Toscano or Parmigiano-Reggiano
4 large, fresh basil leaves, torn into bits
Preparation:
In a large pot, cook the onion and celery in the oil over medium heat, stirring occasionally, until tender and golden, about 10 minutes. Stir in the garlic and cook for 1 minute. Add the tomatoes, with their juice, and cook, stirring occasionally, for 10 minutes.
Add the broth and salt and pepper to taste, bring to a simmer, and cook for 20 minutes.
Break one of the eggs into a cup and carefully slip it into the simmering soup. Repeat with the remaining eggs. Cover and cook over very low heat until the eggs are just set, about 3 minutes.
Place the bread slices in four soup bowls. Sprinkle each slice with some cheese and basil and carefully spoon an egg on top. Ladle the soup around the egg and serve.
*Excerpted from
the Italian Vegetable Cookbook
by Michele Scicolone. Reproduced by permission of Houghton Mifflin Harcourt. All rights reserved.
**Any fresh tomato will work.