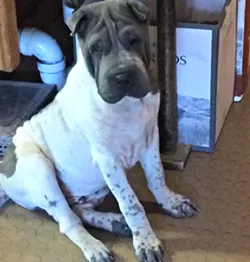 135 Luce Hill Rd., Stowe, 253-6071
Montréal's first cat café
opened last week
. In other news, shar peis have been the greeters at Stowe townie bar
Burt's Irish Pub
for years.
The four-month-old pup at right, with his uncommon blue markings, is an apt representative for his mom Janet Martinez's odd little business. (And don't worry, Mr. Health Inspector. The pooches are kept comfortably distant from the kitchen.)
Locals are there for the exceptionally friendly service at the horseshoe-shaped bar. There's an emphasis on booze from Stowe's Green Mountain Distillers among the broad selection of quaffs. Beers on tap include suds from Lost Nation Brewing, just over the Notch, and Lyndonville's Covered Bridge Craft Brewery.
But to Martinez's surprise, my gang and I were there for the food. I was following my food-writer Spidey sense that tingled at the suggestion of a Colombian cook running an Irish pub. My instincts didn't betray me.
In spite of (or perhaps because of) the warm, divey atmosphere, I discovered a spot that will now be among my top picks when I venture to Stowe.
The menu is small. Really small. The day I visited, a chalkboard listed three items. My two friends and I ordered one of each to share. Martinez also let us know that, off-menu, chicken-fried steak was available, too.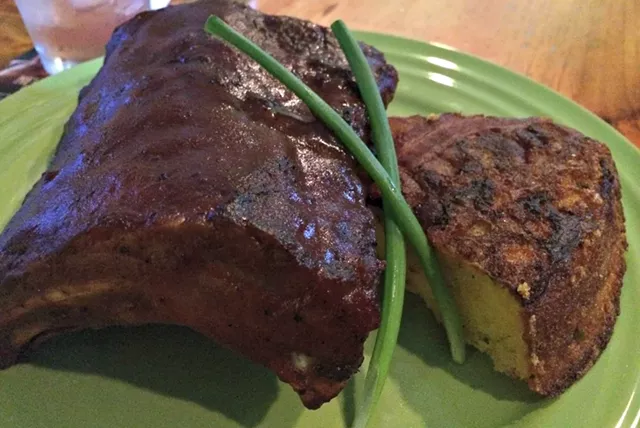 Alice Levitt
Pork ribs with cornbread
Food came out staggered, as Martinez finished cooking it. First was a half rack of ribs served with bacon-wrapped cornbread. Bartender Paul, a Louisiana boy, let us know that he has personally approved the meaty pork ribs. And so did I.
Despite a sauce darkened by molasses, the meat was barely sweet. Instead, acid and spice competed for dominance with the fatty, Platonically prepared pork. I usually avoid ordering ribs that have been braised rather than smoked. In this case, I would have been very, very wrong to do so.
The cornbread on the side was slightly dry in places, but in others, chunks of corn and jalapeño kept it moist. A basket weave of bacon melded into the batter seamlessly, as if the salty, porky crust had appeared there naturally while the cornbread baked.
The dish would have been damn near perfect had there been more of a vegetal presence than two artfully placed scallions. Still, my mouth is watering as I write this.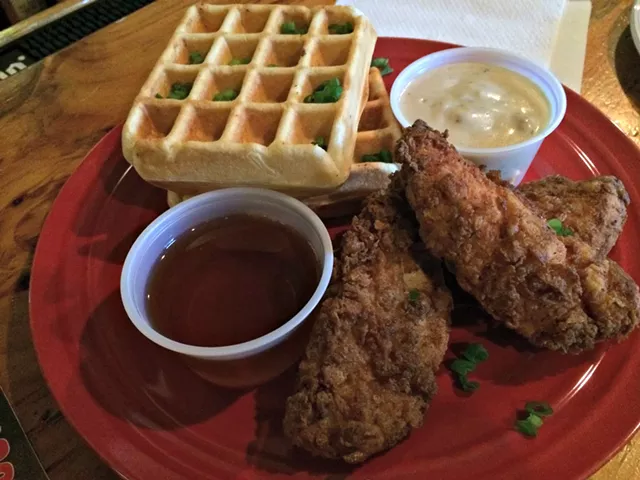 Alice Levitt
Chicken and waffles
Southern-fried chicken and waffles have become something of a staple at Vermont pubs in recent years. But there's no hint that Martinez's version has anything to do with trends. Her lightly sweet, buttermilk waffles taste like home, with a pleasant crispness surrounding a spongy center. I could have done without the shower of scallions on the pastry, though.
The accompanying chicken tenders were nicely spiced and fried to perfection — marinated to create a moist inside with a crunchy coating. Usually, maple syrup is the only condiment. Since Martinez was serving chicken-fried steak, she had a batch of sausage gravy at the ready. And eat it we did, enjoying the ratio of approximately 50 percent sausage to 50 percent peppery gravy.
But Alice Levitt
Carne guisado
But if there's a single reason I call Burt's a hidden treasure, it's the carne guisado. Shelburne business
Colombian Eats
sells owner Juanita Galloway's native cheesecakes. But for now, the only savory Colombian fare in Vermont comes from behind the bar in Stowe. Martinez accidentally made my party versions of both the beef and chicken versions of her braised meats.
Alice Levitt
Pollo guisado
The tender beef was more robustly spiced in its tomato-and-chile-based sauce. The chicken would have really crowed with just a touch more salt. Both were served over fluffy white rice with a colorful topping of thinly sliced red onions, soft avocado and cilantro. Martinez usually double-fries green plantains into a flattened, salty mash. But we hit Burt's on a day that she had sweet plantains, which were chopped and pan-fried to a hint of crispness.
With Santos Cocina Latina now a distant memory, I've got a new Latin destination in the Green Mountains. And divided three ways among me and my friends, my bill came to $11.62, including nonalcoholic drinks. I almost hesitate to share my new secret. Hopefully, there will still be room at the bar for me.
Alice Eats is a weekly blog feature devoted to reviewing restaurants where diners can get a meal for two for less than $35. Got a restaurant you'd love to see featured? Send it to alice@sevendaysvt.com.