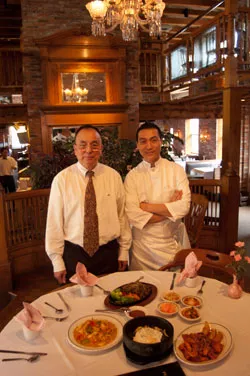 Matthew Thorsen
Peter Chuong and Ben Chen
While
one Winooski business
has been attracting national attention, another is quietly saying adieu. After 27 years in business, the
Peking Duck House
will serve its final meals on Saturday, August 30.
According to zoning documents, co-owner Linda Chen is selling the building to Burlington's Youkel architecture firm. The latter business chose not to comment at this time.
But Chen says she and her brother, Peter Chuong, had the building, which they've owned since 1987, up for sale for about a year. The pair finally decided to retire, adds Chuon's son, Ben Chen, who left his own Boston restaurants in 2011 to revitalize the Winooski business. "They've been here forever. It's a good time to start a new life," he said.
Ben Chen says that Chuong and Linda Chen will travel, visiting family and friends in China before settling near him and his own young family in Boston. As for the young restaurateur, who introduced Korean and Thai food to the traditional Chinese-American menu, he says he'll take a month off to decompress before deciding on his next move. He's not yet sure whether that move will be back into the restaurant business or as an entrepreneur in another field.
The family will say their final goodbyes to loyal customers with a private party on Sunday. According to Ben Chen, the event is about celebrating 27 good years in the business, not saying goodbye. "It's a good time to go. Everyone was happy," he says.
Still, locals are sure to miss their Scorpion Bowls and bibimbap.
Correction: Updated 4 p.m. Wednesday, Aug. 27 to reflect how the family members are related.