Inn at Round Barn Farm team makes spring rolls
I've been attending Taste of the Valley — part of the Vermont Festival of the Arts that overtakes the Mad River Valley in August — for the better part of a decade.
It's normally a quiet event, with restaurants from the MRV area tabling with small bites in the Lincoln Peak area of Sugarbush Resort. Many of my favorite food businesses, from restaurants to farms to bakeries, are in that region, so for me it's been a deliciously concentrated dose of good stuff. But this year was different.
The new general manager at Timbers Restaurant at Sugarbush, Bruce Hyde, had a vision for a more competitive take on the placid tasting. This year, seven of the 25 businesses present agreed to compete Iron Chef style.
Attendees voted for their favorite small bites from among the group of seven. The top two were then selected to go head-to-head in an outdoor culinary battle. And as a judge, I was one of only three people to taste their competitive handiwork.
But first, like everyone else, I had to taste my way through the indoor-outdoor event.
A long line, snaking down and past Timbers' patio, had formed at the table representing the Inn at Round Barn Farm. Back where I started, diners admitted they had no idea what was at the end of the queue.
It turned out that chef Charlie Menard and his crew had formed a production line to fry up spring rolls to order. He offered six different versions. I tried the American Beauty, stuffed with sliced brisket, homemade kimchi, shiitakes and kale. One cook filled the egg roll wrapper, while another folded it. Yet another fried it, before Menard personally cut it in half and served it.
I also tried the dessert version, filled with coconut-rice ice cream. It stayed frozen just long enough to make a sweet mess that merited grabbing a couple hands full of napkins.
Adam Longworth of the Common Man was right next door, serving pillowy duck meatballs in warm, puffy steamed buns with pickled veggies and hoisin. It made me wish he would do a Chinese night at the restaurant. Also on Timbers' porch was chef Todd Dibkey from that restaurant. He, too, went Asian with spicy lettuce wraps.
Tuna ceviche from Himitsu Sushi
Other notables included Gleason Grains waffles with blueberries and basil syrup from Pizza Soul, tuna-watermelon ceviche served in a cloud of coconut foam by Himitsu Sushi and black sesame ice cream crafted by Scout's Honor. But, like Menard, those cooks didn't throw their hats in the ring for the Iron Chef competition.
When votes were counted, it was little surprise that Longworth and Dibkey would be fighting it out. Hyde and Sugarbush's executive chef and food-and-beverage director Gerry Nooney introduced the secret ingredients: The chefs would have to cook at least two dishes each, using pork liver and beef from Gaylord Farm in Waitsfield.
The chefs served their pork dishes first.
Dibkey's liver was lightly dusted in flour before frying for a crisp exterior and creamy middle. The hash beneath leaned too heavily on underseasoned potatoes and onions for my taste. The other judges — Tom Bivins, executive director of the Vermont Cheese Council, and David Cohen, who writes about food for the local
Valley Reporter —
found it refreshingly summery. Despite the edible flowers on top and a swish of sherry vinegar, I found it heavy.
Longworth's pork was dusted in panko. The deep, earthy flavors were enlivened with sweet onions sautéed with slices of Vermont Smoke and Cure pepperoni. The creative dish tasted better than it sounds — like a creamy, upscale pizza sans carbs.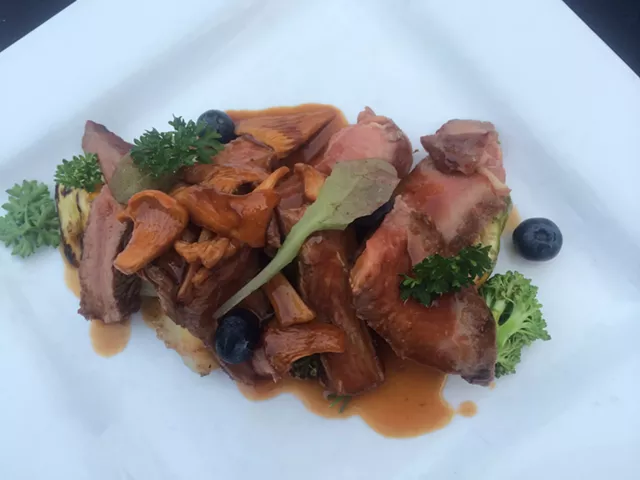 Longworth's keen hand with plating showed in his beef dish. Perfectly seasoned and grilled steak was piled with chanterelles and broccoli in a veal reduction. The result: A Euro take on Chinese beef and broccoli. The blueberries on top hit a cacophonous note, but they were easily avoided.
On the other hand, Dibkey embraced Asian flavors with steak seasoned with Korean chile flakes. Beneath, a tangy slaw was flavored with Chinese vinegar. It was my favorite dish of the competition.
But in the end, Longworth's creativity and skillful plating were victorious. The Iron Chef trophy will hang at the Common Man until next year's competition, when it's passed to the 2015 winner.