3600 Waterbury-Stowe Road, Waterbury Center, 327-7537
This year was
Seven Days
' first bestowing a Daysie for best cider doughnuts.
Cold Hollow Cider Mill
in Waterbury scooped up the prize. I hate to admit it, but I had always consigned the place to the realm of tourist trap. But clearly, Vermonters love it, too. On Saturday, I braved the tour buses for a taste.
By 1 p.m., most of the oldsters had boarded a shuttle, leaving the restaurant — so busy at 12:30 — almost empty. That made it easy for me to score a shaded picnic table on the deck. I left my things and headed across the parking lot to the farm store and bakery, where I was greeted by the lady above.
Amid copies of Robert McCloskey's 1943 doughnut-making classic,
Homer Price
, a man was working the hopper, spitting out cider doughnuts into hot oil. An assembly line carried them out of the oil to dry, before being sold to folks like me for 50 cents apiece.
But I couldn't stop there. I had to weave my way through the homemade baked goods, the cider press room and shelves upon shelves of Vermont products, including enough bottled dressings to feed several small nations.
Most fell into the realm of tourist tat, but the baked goods looked worth a try. I grabbed a cider brownie stored in a glass cabinet beneath a sign that read, "While we wish you could sample everything, our bakery items are for purchase only." And yes, I paid for it..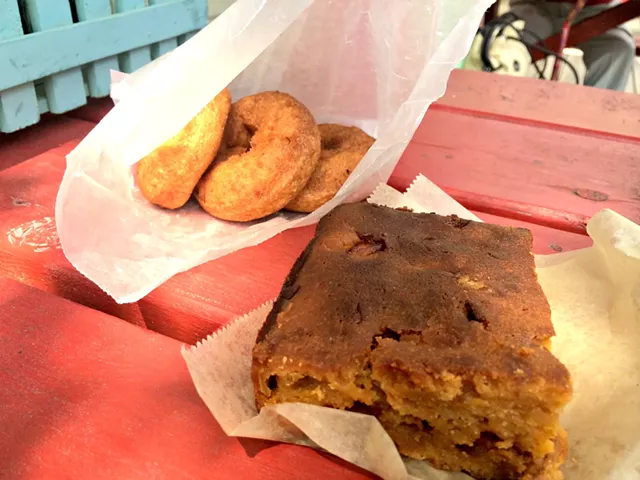 Cider doughnuts and cider "brownie"
Back at my table, lunch had arrived, but we started with dessert while the doughnuts were still piping hot. And that was not their only virtue. Within a crackling crust, the center was meltingly soft, but not too sweet. Instead of sugar, the dough tasted more of apple and spice than many cider doughnuts I've tasted. I could see why this was a winner.
Not so in the case of the brownie, really a blondie, as there was nary a hint of cocoa. It was so sugary that it hurt my mouth. It was too bad, since I liked the pastry's gooey texture. But its size and density have come in handy: My other half has been nursing it ever since and still appears to have most of it in his car, ready for a low-blood-sugar moment.
We made it a point to order items that utilized Cold Hollow products. I even insisted on sipping a pint of cider with my meal. The luncheonette's signature panini, "The Apple Core," was an obvious choice, too. And it worked out.
Pressed between crisp slices of sourdough, sliced apples and sweet cider jelly accounted for Cold Hollow's contribution. The sandwich could have been excessively sweet if not for the the fatty, salty contributions of Green Mountain Smokehouse and a gooey layer of Cabot cheddar. The side salad was small and little more than an afterthought, but its tangy balsamic dressing lent a welcome punch of acid.
Roast beef and provolone with horseradish jam mayo
I ordered the fairly basic roast beef sandwich because of its uncommon condiment. Mayo is mixed with horseradish jam, apparently for an extra zip. But it wasn't there. It tasted like mayo. I was sad.
Though rather plain, it was a good sandwich. I was especially fond of the fluffy, slightly chewy sweet-potato-oat bread on which it was served. But the sandwich lacked pizzazz.
I probably won't order that again. But now I know not to overlook Cold Hollow as merely a bus-tour stop. Doughnuts and panini will definitely be on my agenda when traveling the Waterbury-Stowe Road.
Alice Eats is a weekly blog feature devoted to reviewing restaurants where diners can get a meal for two for less than $35. Got a restaurant you'd love to see featured? Send it to alice@sevendaysvt.com.