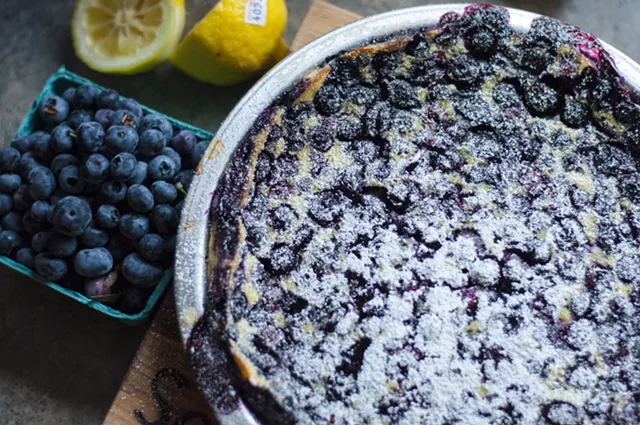 Although I generally love the results, baking is not usually my thing (I blame the dishes it creates).
But occasionally a recipe comes along that is so simple, so
tasty
— that I can't resist the pull of the oven. And when I find myself with an excess of fruit (often bought on purpose to force me to bake), I'll do it for a special treat.
I used to work at a charming little bistro in New York's East Village where the pastry chef made a wonderful clafoutis — a custardy French dessert, classically studded with cherries.
It's an elegant dish, gorgeous to look at, smooth in the mouth and delicate in flavor, and I'd always assumed it was beyond my skillset ... Until I stumbled on a recipe and read how easy it is.
Last weekend, I picked a boodle of blueberries at
Adam's Berry Farm
, so ... blueberry clafoutis.
I pretty much co-opted Julia Child's recipe wholesale from
Mastering the Art of French Cooking
, swapping her cherries for my blueberries and adding a pinch of lemon to keep it tart. With French cookery, and especially with baking, I find it best to stick to trusted sources for recipes.
Apart from the baking, preparing the dish takes a fairly foolproof 10 minutes.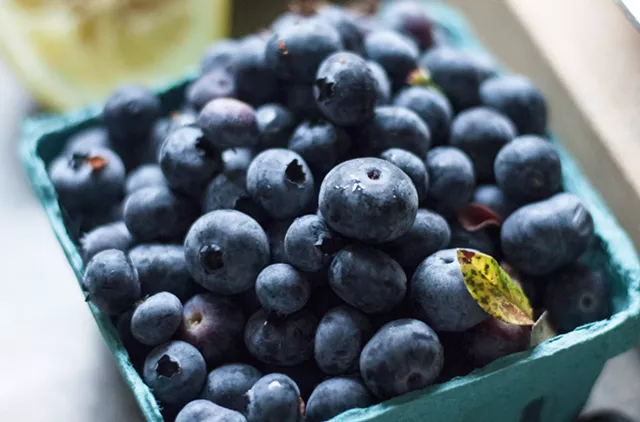 Blueberry Lemon Clafoutis
Serves 6

Ingredients:

Butter for baking dish
1 1/4 cups milk
2/3 cup granulated sugar, divided in half
3 eggs
1 tablespoon vanilla extract
1/8 teaspoon salt
1/3 cup all-purpose flour*
3/4 teaspoon lemon zest
1 tablespoon fresh lemon juice
3 cups blueberries
Confectioner's sugar, for garnish
Preparation:
Preheat oven to 350 degrees and lightly butter a 10-inch pie dish or cast iron skillet.**
With a hand mixer or blender, blend the milk, 1/3 cup sugar, eggs, vanilla, lemon zest and juice, salt and flour until smooth.
Pour a 1/4-inch layer of batter into the baking dish and bake for 7-10 minutes until a film starts to form over the top but the batter isn't completely set.
Remove from the oven and spread berries evenly on top. Sprinkle the berries with 1-2 tablespoons of the remaining sugar, or more if you like it sweet. Grate a just a little (1/4 teaspoon or less) lemon zest over the berries and squeeze just a bit of lemon juice (1/2 teaspoon or less) as well.
Cover the sugared berries with the remaining batter, and set the dish on a cookie sheet (the berries may ooze over the edge of the pan). Bake on the center rack for 45-60 minutes, until the custard puffs up and turns golden brown around the edges.
Dust with confectioner's sugar and serve warm.
*Child's original recipe calls for 2/3 cup flour; I decreased that by half for a more custardy result. For a cakier bake, use the full 2/3 cup.
**For individual-sized portions or for entertaining, you can also use shallow ramekins, à la crème brûlée.