1983 game Tapper isn't in the house, but its bartender is, attending to E. Honda and Darth Vader
There was no escaping the heat last night. But inside
Tilt Classic Arcade and Ale House
, it was practically a sauna. The air conditioning shorted out earlier that day, leaving the restaurant steamy by its 7:30 p.m. opening. The system will be fixed on Thursday morning, but the throngs at last night's opening sweated to the oldies nonetheless.
Anticipation had built to a fever pitch since
Seven Days
announced the upcoming "adult" arcade in March. The usual new-restaurant holdups ensued, slowed by the major renovations to the space involved in creating Tilt's two floors of arcade games in just 12 weeks
"It's been a series of unfortunate events," says co-owner Thom Dodge, of the weeks and days that led up to opening.
Last week, the fire department was called to the space to help with wiring concerns in the hood system. Following a longer-than-expected wait for approval from the fire marshall, Tilt opened at last evening after a brief false start of a promised 3 p.m. debut.
What did gamers find?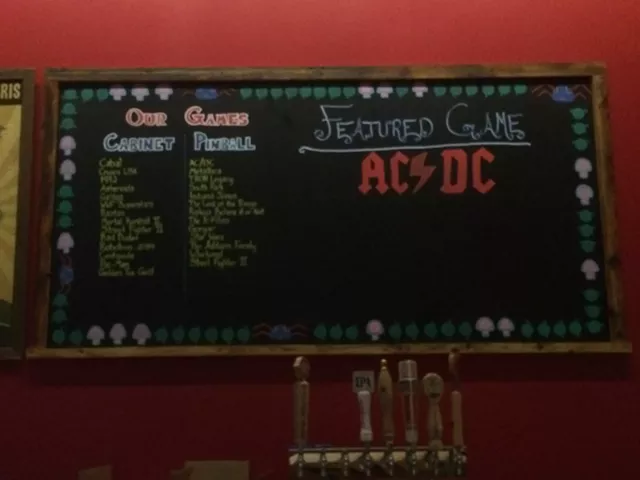 The game list above was posted next to the 24-beer tap list (see list for
cabinet games
and
pinball
). Options included local suds from Lost Nation Brewing, Zero Gravity Brewery and Fiddlehead Brewing Company, but also Schlitz. Not beer drinkers ourselves, my other half and I ordered the first signature cocktail sold at Tilt.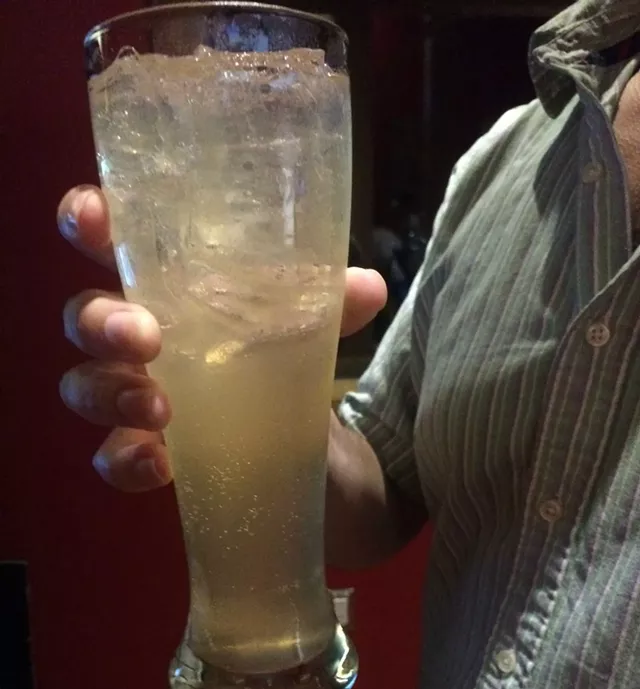 The Hadoken is named for the "surge fist" move in the
Street Fighter
series that most players refer to as a fireball. The tall, $10 drink was suitably incendiary, made with Rookie's ginger beer mixed with habanero-infused Green Mountain Vodka. Coincidentally, Rookie's owner Dave Rooke is a member of the Vermont Pinball Association, says Dodge.
Dodge bristles at the term gastropub, preferring to call Tilt's bill of fare "an organically driven pub menu." The options, all organic and GMO-free, include several burgers, among them a weekly game option. This week, it's bison with Buffalo sauce (another Street Fighter reference. Small plates range from Fiddlehead-inflected hummus and a kale salad with shaved fennel to more classic pub fare such as wings and loaded gravy fries.
I didn't get a chance to try any of the food yet, but I did make a bathroom stop. And my inner 12-year-old girl, who reserved a copy of
Mortal Kombat
for Sega Genesis months in advance, squealed with delight. (See bathroom door sign below.)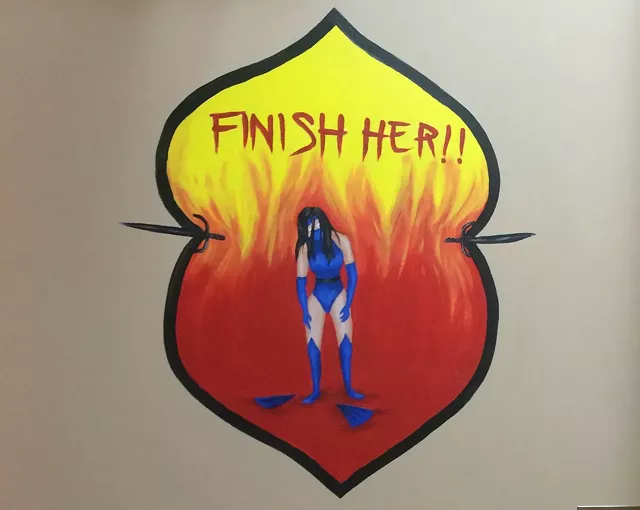 Naturally, boys got equal treatment.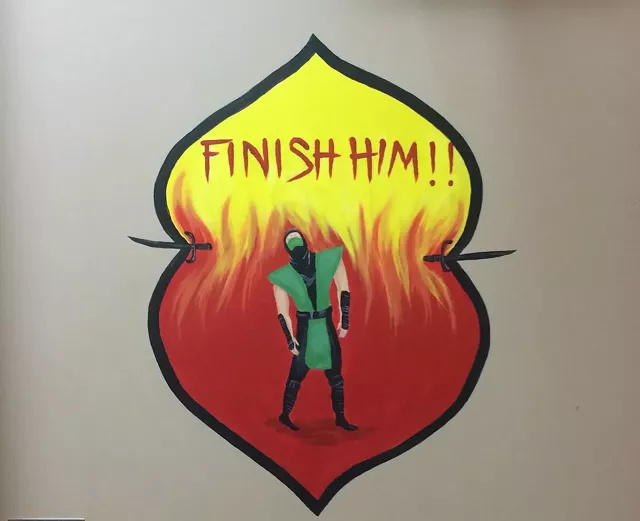 But arcade fans are unlikely to be finished with Tilt anytime soon.