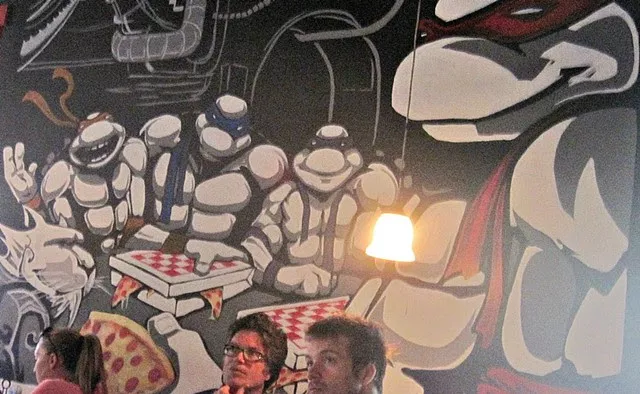 Alice Levitt
Raphael is cool, but rude
Here's a sentence I never thought I'd write: Let me tell you about my dinner at
Manhattan Pizza & Pub
. I had long considered it a subpar pizzeria. But a changing of the guard inspired me to give it another try.
Two years ago, longtime employees Sam Tolstoi and Matt Small took over ownership of the Burlington landmark. Since then, the pair has sunk time, energy and money into revamping the place. The mural above is one of a series of three, completed this winter. And now 20 taps offer local brews along with cult favorites such as Brooklyn's Sixpoint Brewery. But most importantly to my mind, a new menu debuted in April.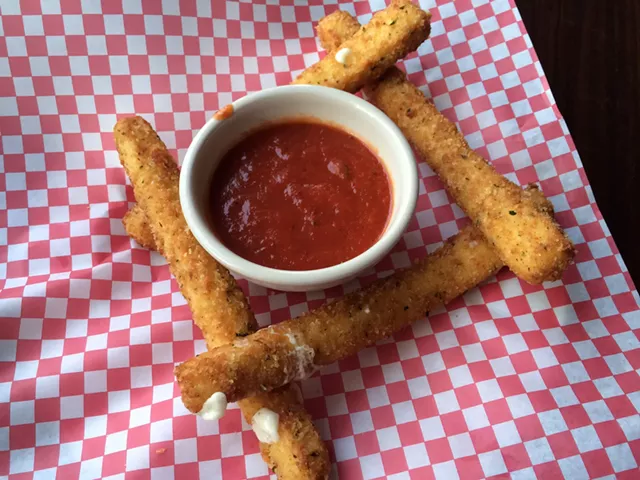 Alice Levitt
Monsterella sticks
Not everything is made in house — the menu includes tater tots, and I ordered them with pride — but many items you wouldn't expect a pub to make from scratch are crafted in Manhattan's kitchen. That includes the massive "Monsterella" sticks ($8) that I saw arrive at nearly every World Cup-watching table on Sunday evening.
Each stick is as long as two normal mozzarella sticks. This is dangerous. It's twice as easy to devour them. Even my other half, who usually eschews fried mozzarella, declaring it "too bouncy," helped quickly dispatch these. Nothing is really that uncommon about them — just a good ol' bath in the fryer and a smooth, tangy sauce.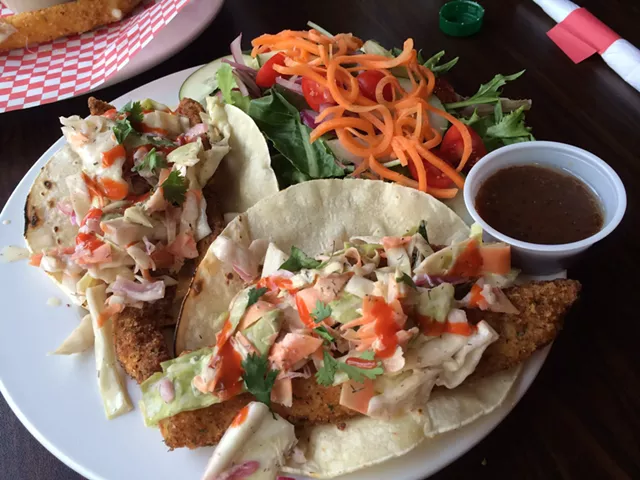 Alice Levitt
Fish tacos
Little was basic or pubby about the fish tacos ($8, $6 on Sunday night), however. Even Tolstoi admits that when he began making them, he became addicted. The soft corn tortillas are overflowing with two crispy chunks of breaded cod. The fact that it's breaded rather than battered is key. Often, battered fish soaks up the liquids from the vegetables around it. These chubby filets stayed admirably crunchy, despite a mound of cabbage-and-onion slaw on top.
Spicy tartar sauce contributed a pale wash of heat, but squiggles of Sriracha raised it to a pleasant burn. A plentiful shower of cilantro cooled it down, resulting in a particularly well-balanced taco. The farmer's salad I ordered on the side completed the meal. I hate to admit it, but, despite the fried fish, the plate felt almost ... healthy.
Alice Levitt
Eight-Hour Guinness brisket sandwich
My other entrée was more German than Tex-Mex. A hearty portion of braised brisket filled a sturdy bun. The dark, malty flavors of Guinness were clearly discernible in the meat, but I suspect that eight-hour cook was done at too high a temperature. Though far from arid, the beef was drier than I prefer.
Once it was combined with the homemade cabbage-and-apple slaw, though, I barely noticed the beef's lack of moisture. The shreds were imbued with a hint of garlic, but were otherwise as tangy and sweet as a side you'd expect to find as a side to sauerbraten. Swirls of sharp Dijon mustard brought a bit of bite to the $11 sandwich.
I brought my own bite to the tots, one of my favorite guilty pleasures. I didn't dip them in their accompanying duck sauce, though. Amid the more complex flavors of the now-homemade food, it just tasted fake.
Alice Eats is a weekly blog feature devoted to reviewing restaurants where diners can get a meal for two for less than $35. Got a restaurant you'd love to see featured? Send it to alice@sevendaysvt.com.