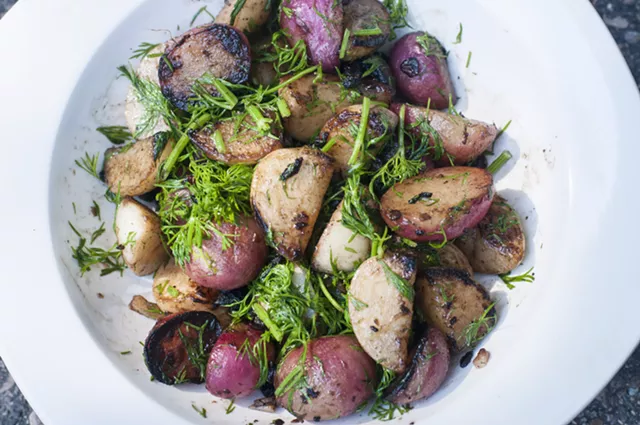 Photos by Hannah Palmer Egan
Blistered radishes and hakurei turnips with dill
On May 10, the Burlington Farmers Market moved back outside for the summer. I stopped by on Saturday to survey the first of the spring harvest.
It's early yet, and many growers are selling more potted plants than produce, but a few industrious farmers are already coaxing gorgeous vegetables from the ground.
Jericho Settlers Farm
(find its meats and produce at Farmhouse, Hen of the Wood and Healthy Living, among others) had one of the better spreads: crisp, bright-red radishes, petite white salad turnips, and broccoli rabe just beginning to bloom. JSF also had heaps of tender young herbs including dill and parsley, perfect for a simple, springy sauté.
From left: radish, dill, turnip
The recipe is easy (10 minutes prep, 10 in the pan),
adapted from Jennifer McGruther's The Nourished Kitchen: Farm-to-Table Recipes for the Traditional Foods Lifestyle
–
a bomber new cookbook released in April by Ten Speed Press. It's more than 300 pages of simple, natural, big-picture cooking, with recipes for everything from milk kefir (seriously, what is that?) to cider-brined chicken and Concord grape sorbet.
Serves Two
Ingredients:
6 spring radishes, halved
6 hakurei turnips (also called salad turnips), quartered
2 cloves garlic, diced
1 tablespoon salted butter (vegans: substitute olive oil for butter)
1 generous handful fresh dill, loosely chopped
Salt to taste
Preparation:
Cut the vegetables to size and set them aside.
In a wok or shallow pan, heat the butter over medium-high heat. When it's completely melted, add the garlic, reduce to medium heat and sauté until the garlic softens and just begins to brown.
Add the root vegetables, sprinkle with a bit of salt (go light if you don't know how much you like), and cook until the radishes soften slightly and brown at the edges.
Turn off the heat, stir in the dill, and remove the from the hot pan immediately, serving warm or at room temperature.
Et voilà! Served here with jasmine rice and stir-fried broccoli rabe and radish/turnip greens.