370 Shelburne Road, Burlington, 865-8383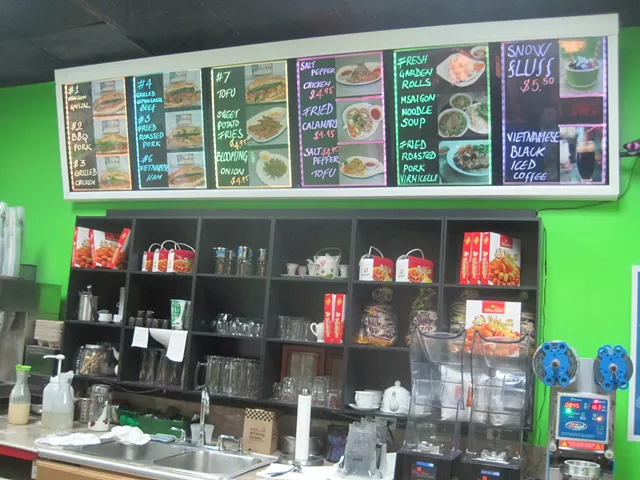 Photos: Alice Levitt
The lights on the sign flash and change color.
M-Saigon Noodle House
is old news. One of the first restaurants to open in the great Vietnamese restaurant boom of the late aughts, it's been serving unexceptional pho and bun since 2008. But recently, the Shelburne Road eatery underwent an expansion, moving equipment from the now-closed My H20 in the Burlington Town Center to Shelburne Road. Adjacent to the dark original restaurant and its wooden Mickey Mouse and Fievel decorations, diners can now enter the neon-green alternate universe of M-Saigon Sandwich Café.
But they can't sit there. According to a prickly server, seating is no longer permitted in the space. In fact, he seemed to discourage me from going in there at all. I was hoping to get some Deli Manjoo, the machine-made-to-order Twinkies I've enjoyed at Asian malls in New York. His response? "There aren't any." Hmmmm.
But I was (mostly) undeterred in my excitement. Much of my time visiting larger cities is devoted to casual Asian bubble tea cafés that serve small plates of mostly fried food. The Sandwich Café menu is just that.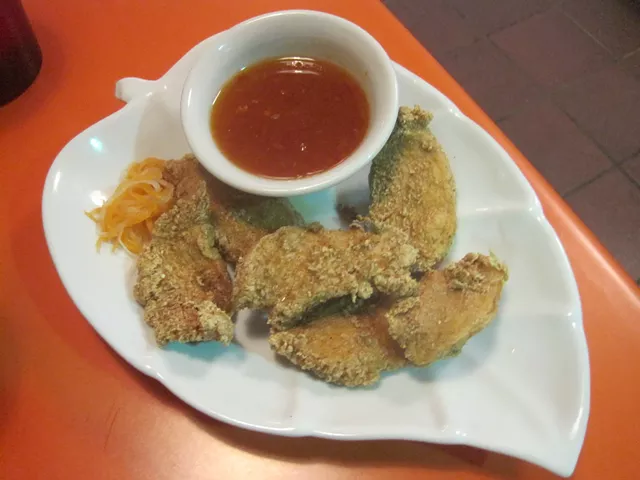 Salt-and-pepper chicken nuggets
And the price is right to eat a wide array of dishes. $3.50 salt-and-pepper chicken nuggets arrived at our table first. As chicken nuggets, they were acceptably crunchy, if a little dry. But there was only as much salt and pepper on that chicken as there would be on any properly seasoned dish. This was far from the spicy smoked-salt delicacy I enjoy at Chinese restaurants. A gooey, chile-flecked sauce helped matters, but not quite enough.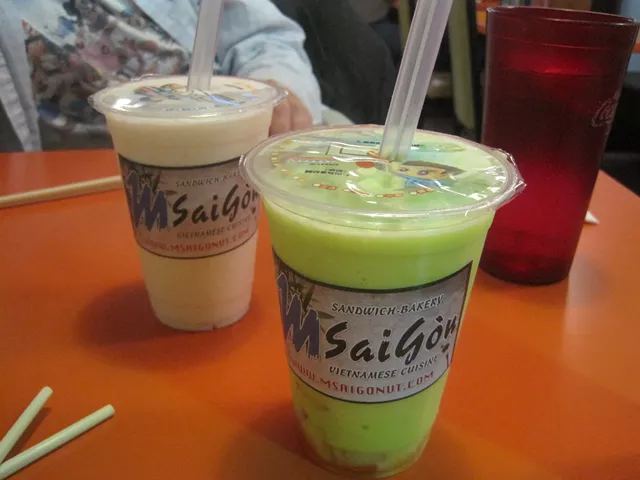 Coconut and honeydew smoothies
Still, with a honeydew bubble tea in hand, I was in a happy snack zone. But even the bubble tea was not as good as it was when M-Saigon opened. Without warning, flavored jellies have replaced bubbles. When my drink arrived, the taste was uneven — I needed to mix in the flavoring myself. I heard similar complaints from a Vietnamese family seated nearby.
The $3.75 blooming onion was an enticingly greasy reminder of warmer days. At least in theory. But the barely breaded lotus flower of onion was nearly raw. That made it not only unappealing to eat but almost impossible to tear apart. Fans of stiff, raw onions encased in grease are in for a treat.
But really, if you're snacking Vietnamese-style, you probably want a banh mi. The version at M-Saigon seems to have come of age since I called it greasy and mayonnaise-heavy in 2010. Once-bland pickled veggies now snap with acid. The lemongrass beef in one was sweet and tangy, if a bit chewy. Crispy pork in the other was satisfyingly fatty and bursting with salt and umami goodness. I just wish there had been more of the meat and veggies. The crisp, homemade baguette is the best banh mi roll in the area, but its size overwhelms its fillings.
If I couldn't get Deli Manjoo, I had to have a "Snow Fluff."
Taiwanese Beautiful Memory Dessert in Flushing is one of my favorite dessert spots in the Northeast. My good fortune at finding Asian shaved-ice sweets in Burlington did not escape me. The green-tea ice indeed tasted like lightly sweetened green tea. The strawberry-flavored jelly on top added sugar and texture. Pirouline cookies suited the dessert surprisingly well. The chunks of mochi were ... hard. In the future, I hope diners will be allowed to enjoy Snow Fluffs in mix-and-match style.
Though I won't be returning for a blooming onion anytime soon, a Snow Fluff bar would certainly entice me back to the new Sandwich Café. Hold the mochi, please.
Alice Eats is a weekly blog feature devoted to reviewing restaurants where diners can get a meal for two for less than $35. Got a restaurant you'd love to see featured? Send it to alice@sevendaysvt.com.