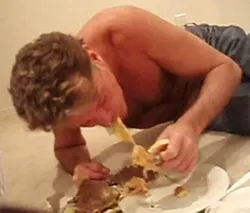 The Hasslehoff Burger is best enjoyed shirtless.
Hungry for a Hasselhoff Burger? The $34 patty is cooked well done and topped with ketchup, then served on the bathroom floor. "The celebrity price is in line with the celebrity experience," says a representative for Montpelier's
Three Penny Taproom
, which
debuted a new spring menu today
.
The source told
Seven Days
that the new menu was designed to keepThree Penny in line with popular New York restaurants, such as Guy Fieri's landmark
Guy's Kitchen & Bar.

Starting today, Three Penny guests will be welcomed to "Flavor Town" with a new take on the cheese plate. Kraft Singles, Cheetos or Easy Cheese are each available for $9. Larger parties may want to indulge in all three for $15, served with a side of ketchup.
Waist watchers can stick to the salad menu. The Jell-O salad is composed of lime gelatin, canned pineapple and artisanal marshmallows, while the taco salad features Doritos and jarred salsa.
Since Three Penny is ultimately a beer destination, snacks and sides are an important addition to a can of Schlitz or Olde English 800. Irish Nachos make the most of our Blarney-kissin' cousins' cuisine with boiled waffle fries, Kilkenny jalapeños and a Guinness drizzle. An original dish, Pigs in a Biskit, features pigs-in-a-blanket, crusted with Chicken in a Biskit crackers.
One sweet snack is appropriate as a starter, side or dessert. A bowl of Cinnamon Toast Crunch will run you $6. Add milk for just $17 more.
We look forward to trying Three Penny's hip new fare soon, with or without a shirt.