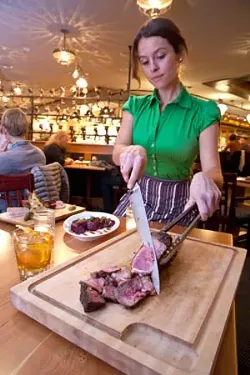 Matthew Thorsen
Slicing steak at Guild Tavern
The Farmhouse Group's latest project, Pascolo Ristorante, will debut in early May, says chef-partner Phillip Clayton. In anticipation of the Italian restaurant's opening, he has hired an executive chef and sous-chef to get the ball of pasta dough rolling.
Opening Guild & Company (now
Guild Tavern
) sous-chef Kevin Sprouse has returned to Vermont to take on the role of executive chef at Pascolo. In the interim, he gained seafood experience at Blue Point on North Carolina's Outer Banks. "He was looking to come back to the area right around the time we started searching for an executive chef for Pascolo," says Clayton of the Culinary Institute of America grad.
Sprouse's sous-chef will be Brattleboro native Michael Moranski. Most recently at chef Sean Brock's Nashville sequel to his famed Charleston restaurant, Husk, Moranski's Nashville career also included farm-to-table eatery Flyte World Dining & Wine and his own Sunday brunch pop-up at the Nashville Farmers Market, the Speckled Hen.
Meanwhile, a new executive chef is also onboard at Guild Tavern, longtime
Trattoria Delia
chef de cuisine Bruce Stewart.
Why not place the chef best known for Italian food at Pascolo? "Bruce's skill set extends well beyond Italian food, and he's really excited about the opportunity to spread his wings a little bit and explore different types of cuisine," Clayton explains. "Kevin and Mike both have a passion for Italian food and great experience with it."
According to a menu that Clayton calls "fairly preliminary," Pascolo's chefs will be working especially hard on crafting pasta. Clayton says that pasta will be made on the restaurant's
Modula machine
at night so diners can see the action taking place behind a window. Along with basics such as spaghetti, tagliatelle and pappardelle, the chefs will also make ravioli from scratch. Though the early menu includes a braised-beef version, Clayton says he also imagines an early-spring sweet-pea ravioli when the restaurant opens.
Winooski's
Guild Commissary
is still awaiting state approval to start dry-curing meats. When it does, it will supply Pascolo with a number of salami, including finocchiona and hot Calabrese styles. If this doesn't happen by opening, Clayton says diners can expect "fresh" salumi including mortadella and testa as well as cooked salami cotto.
Other menu items may run the gamut from pizza and chicken Parmigiana to swordfish involtini.