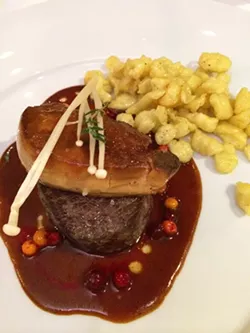 Courtesy of Corin Hirsch
Rack of "Appalachian deer"
The
program for Montreal en Lumiere,
the two-week festival that has been unfolding up north, is disorienting to pick through. Except if you choose to focus only on the food events — and then it's only half as disorienting. Dozens of guest-chefs events and tasting menus abound, so many that I left the decision to the festival organizer who invited
Seven Days
staffers to come and experience the festival.
Since most of us are ridiculously busy at the moment, I was the only volunteer. Even then, I could only squeeze in a Tuesday night, when the ferris wheel on St. Catherine Street was dark, the Haitian food pavilion and Sphère Provigo de Marché were closed, and the schedule was relatively quiet.
Still, my evening was spectacular, even if I arrived four hours late
on a delay-plagued Greyhound bus.
I was invited to dine at Europea, the baroque 11-year-old restaurant where legendary chef Jérôme Ferrer pulls tiny culinary tricks on his diners. Yet many restaurants host guest chefs during the festival — and on the night I visited, French chef Jean-Paul Hartmann turned out four classic dishes that elegantly grounded Europea's parade of amuse-bouche and Willy Wonka-like desserts.
Pictured is Hartmann's "Appalachian deer" with seared foie gras in grand veneer sauce and tiny sea buckthorn berries offering sobering doses of sourness.
The meal was arresting, and raised questions I'll write about in an upcoming feature. In the meantime, Montréal en Lumière continues, culminating with Nuit Blanche on Saturday — an all-night party that unfolds all over the city (the Métro stays open all night, too). So if you have a passport, a clear schedule, and are not attending Burlington's Mardi Gras, get thyself to Montréal
to check out one of the remaining food events
— and mark your calendar for next year.