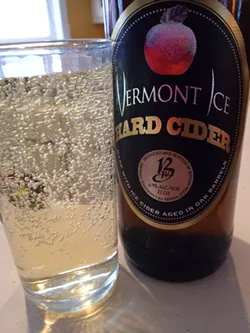 Courtesy of Boyden Valley Winery
Vermont Ice Hard Cider, decanted
This week:
Vermont Ice Hard Cider
from Boyden Valley Winery
Cost: $6.99 for a 22-ounce bottle at Mike's Store and Deli in Hartland
Strength: 6.9 percent abv
The pour: An exuberant head that quickly recedes, as well as fat bubbles and a pale straw hue. It gives off aromas of — well, apples, with maybe a whiff of apricot. (It doesn't smell complex.)
The taste: Full-flavored apples — such as Jonathans — with hints of pear, vanilla and almonds; some of those secondary flavors likely come from the oak-aged ice cider added before bottling. The entire swig, from start to finish, had an innocuous tart-sweet balance laced with bits of savory bubblegum, if such a thing existed. (Well, it does in the Chocolate Factory.)
Drink it with: On its own, or maybe with an apple crumble.
Backstory: This brand-new hard cider is from the Boyden family, who also turn out a range of grape, fruit and dessert wines. The winery used the pressed juices of Northern Spy, Empire and McIntosh apples from Castleton's Brown Family Orchards, then fermented the result in stainless steel. After carbonation, this was "finished" with some barrel-aged Vermont Ice Cider.
Verdict: The Boydens seem to have a knack for nailing the sweet spot of the palate. This is simple, smooth, refreshing and playful. It doesn't demand much.
Midweek Swig tackles a new liquid release (almost) each week. If you have suggestions for something to sample, send them to Corin at corin@sevendaysvt.com.