I would be surprised if any other food critic writes more about the cuisine at area universities than I do, but I can't help it. The University of Vermont hosts two of my favorite annual food events. Judging the Battle of the Campus chefs each year, the skills of the dining hall staff impress me every time. Last year's visit from Swedish chef Göran Päandel Berggren opened my eyes to Sodexo's Global Chef program.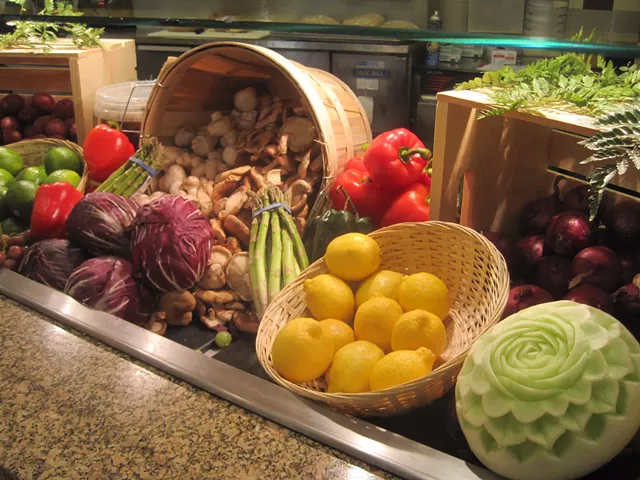 Representative produce, including a melon carved by chef Marin
This year, Slovenian chef Božidar Marin topped Berggren's few offerings by taking over Harris-Millis Unlimited Dining last night. Books on Slovenia crowded a table near the front of the dining hall and native music filled the air. The deli station held two whole-roasted suckling pigs as well as Vermont and European meats and cheeses. Every dish at each of the nine stations was a product of Marin's homeland. A one-night-only Slovenian buffet in Burlington? ArtsRiot, take note.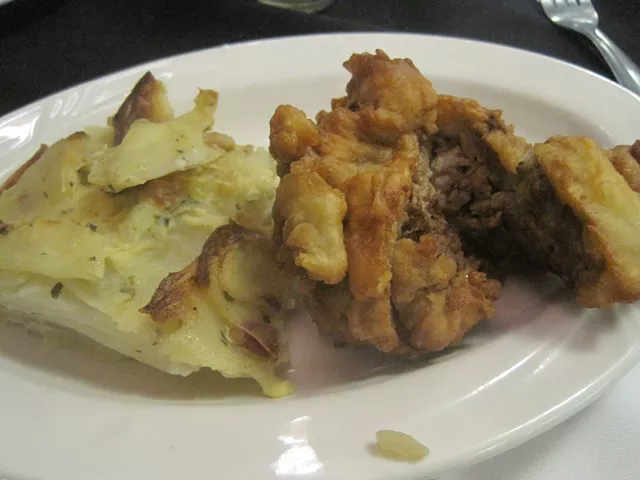 Bela Krajina-style meat dumplings with Alpine Herdsman potatoes
There was a long line at the Mansfield Grill station, which is not uncommon. But usually it's for burgers and fried chicken sandwiches, not for fried meat dumplings from Slovenia's southeastern corner, a region known as Bela Krajina, or White Carniola.
The garlicky pork patties were coated in a batter not unlike thicker tempura, then fried to a golden brown. Imagine a deep-fried hamburger, then multiply it at least a couple of times. The delicious indulgence included a side of Alpine Herdsman Potatoes, a dish not unlike gratin dauphinois, but with onions, bacon and sour cream adding a Germanic taste.
That's only part of what defines Slovenian flavors, though. The small country is surrounded by Austria and Italy in the west and Hungary and Croatia in the east. A mix of specialties from all four makes up the hearty cuisine.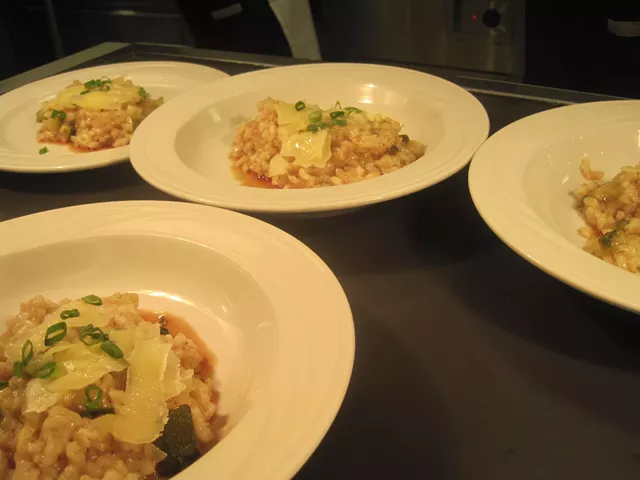 Risotto with chunks of zucchini meshed Italian Parmesan with the pumpkinseed oil popular in Austria for a delicious, wholly Slovenian dish. The arborio rice had turned mushy under the dining hall heat lamps, but the buttery rice tasted so damn good, it didn't matter that the essential bite was missing.
Sea bass with mashed lemon potatoes
Pumpkinseeds appeared again coating crispy sea bass. The fish itself, dressed in julienned carrots and celery, didn't have the big flavor of other dishes, but the pile of mashed potatoes beneath it did. The creamy spuds were flavored strongly with lemon and mixed with sour cream. It was like the flavor photo negative of most fish and potato dishes.
My favorite savory selections were a pair of stews. A pasta and bean soup called pašta fižol was a thicker, meatier take on Italian pasta e fagioli. Just a hint of acid complemented the smoke emanating from thick chunks of North Country Smokehouse bacon.
As I'm a great lover of Polish food, the Slovenian version of hunters' stew, Pohorje hot pot, reminded me of bigos with beans instead of sauerkraut. In a garlicky red wine sauce, beef pork and venison were braised to tender perfection along with potatoes, mushrooms, bacon and carrots, then studded with chewy barley. If I hadn't already eaten several meals of heavy food, I would have gone back for seconds. But I still had to eat dessert!
I wolfed down the bled crmada so quickly that I didn't even photograph it. It was that delicious. Somewhere between a trifle and bread pudding, the sweet consisted of vanilla and chocolate sponge layered with vanilla custard and softened raisins. Rum simple syrup and carob made the whole thing so moist, the slices simply couldn't hold together. No matter. I ate until I could eat no more. Luckily, a Global Chef comes but once a year.