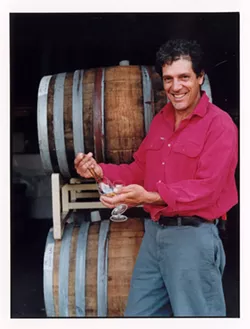 Courtesy of Farnum Hill Ciders
Steve Wood
While it's always exciting to read about the chefs and restaurants nominated for
James Beard Foundation Awards
, I'm particularly piqued by the bar programs, wine programs and beverage professionals who receive nods from the judges.
So it was both wonderful and gratifying to see Steve Wood, the owner of New Hampshire's
Poverty Lane Orchards and Farnum Hill Ciders
nominated this year as an "Outstanding Wine, Spirits, or Beer Professional" semifinalist.
Wood is well known within the cider industry for his revival of heirloom apples, his exquisite hard ciders, and his boundless generosity with aspiring growers and cidermakers. More than one cidermaker has told me how Wood shared his knowledge freely with them — and it is extensive, honed over decades of running an orchard. Even though Wood might be thought of primarily as the owner of Farnum Hill, his invisible influence extends
throughout the cider industry.
Would we have as robust a New England cider scene without him? I doubt it.
Disclosure: Though I don't know him well, Wood is also my Poverty Lane neighbor, so I get to partake of his cider often. He has some stiff competition amongst the other 19 nominees: drinks writer/educator David Wondrich and Tales of the Cocktail founder Ann Tuennerman among them. We hope he makes the second cut. Go Steve!