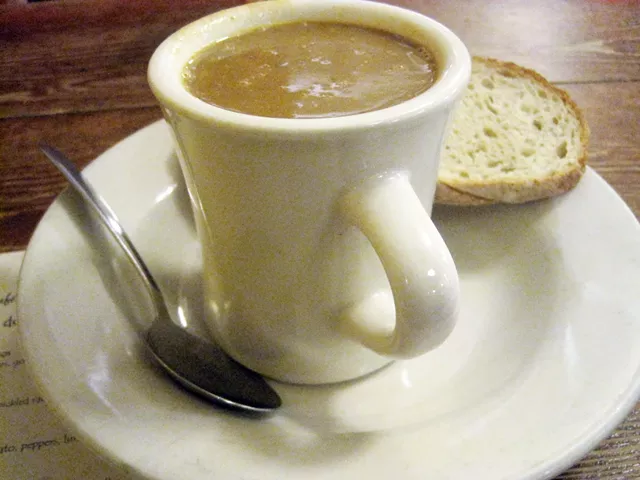 Remember the Mexican food explosion of of 2011 and blink-and-you'll-miss-them restaurants such as Don Pedro's Taqueria? Despite that boom time, readers still often complain to me about the sad state of spicy affairs in Vermont. And to a degree, I agree. I love El Cortijo Taqueria Y Cantina in Burlington, but the menu beyond tacos is limited.
That's why I was so excited when
3 Squares Café
in Vergennes recently announced a change to its Thursday, Friday and Saturday night menu to include dinners that look like this: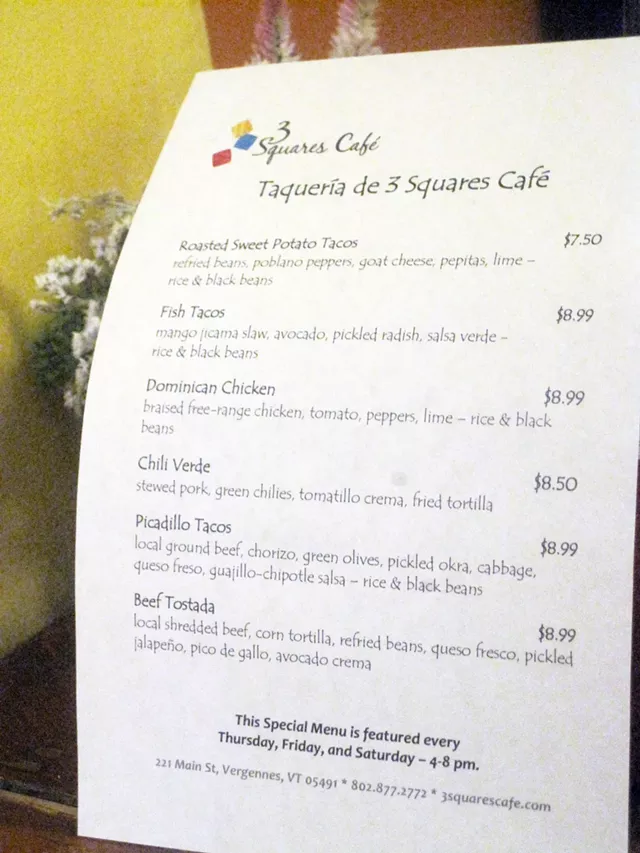 Owner Matt Birong's special Mexican menu during the first Vermont Restaurant Week was one of my favorite meals I've had in the state. Now, I can eat something like it every week.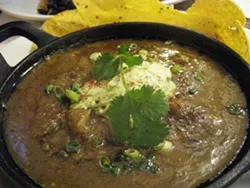 I started my Saturday night meal with a cup of creamy turkey soup to ease my throat, which was roughed up by a nasty cold. Then it was time to get serious.
I would be happy to eat Birong's chile verde every day from now on. A vegetarian colleague who was once a personal chef told me that the spoon of leftovers that I shared with her was one of the best things she ever ate.
She didn't even mind the meaty cubes of tender pork bobbing in the stew. Or perhaps she secretly loved them (and the shreds that calved off the bigger chunks) as much as I did.
Either way, the dish is seriously addictive, with a beautifully balanced sauce green chile sauce. The tangy, savory stew came with house-fried tortilla chips perfect for scooping up the broth like a dip. Every detail made the filling dish more than the sum of its parts, from a blob of tomatillo crema that melted with a sharp creaminess in the center of the cast-iron skillet, to fresh sprigs of refreshing cilantro.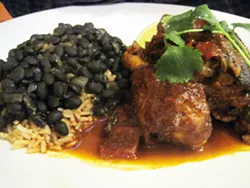 I was keenly tempted by the fish tacos, but given Birong's connection to the DR, I had to try the Dominican chicken. As I wrote last April, Birong owns a stake in a cacao farm in the Dominican Republic and has harvested beans himself to use in chocolate sold at the restaurant. But more on that later.
The bone-in chicken pieces were braised just to the point of holding fiercely to the bone. Once my fork tore into the meat, it fell apart in pillowy shreds. The braising liquid was earthy with smoked paprika that flavored a deceptively rich base of tomato and pepper. Mixed with garlicky black beans and rice, it was a transporting plate of Central American flavors.
But dessert featured an authentic taste of the DR. As in, cacao from Birong's own plants.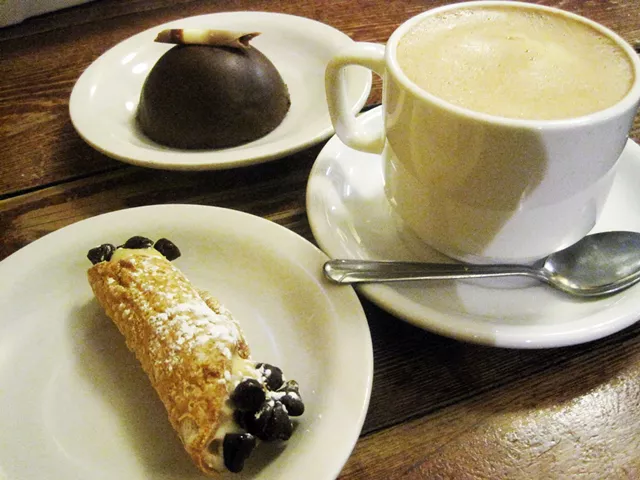 The cacao cannoli had waited in the case too long and lost its crispness, though I appreciated the cinnamon in its cream. The chocolate torte was classic French, well done. But the Mayan sipping chocolate was the star of my mini chocolate buffet.
The drink is not really a dessert in the conventional sense, more along the lines of an after-dinner espresso. The chef's trinitario cacao beans are mixed in a milky sip with spices and even a bit of rose for a taste that changes with each sip. It's the slightly bitter, grown-up version of a Gobstopper.
As if diners needed more reason to head to Vergennes for south-of-the-border done right.
Alice Eats is a weekly blog feature devoted to reviewing restaurants where diners can get a meal for two for less than $35. Got a restaurant you'd love to see featured? Send it to
alice@sevendaysvt.com
.